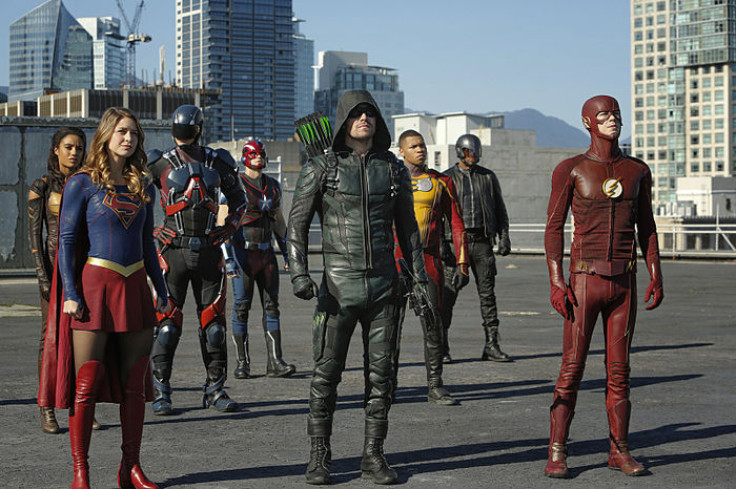 The DC TV crossover continues with Legends Of Tomorrow season 2's episode, airing this Thursday (1 December) at 8pm EST on The CW Network. Episode 7 is titled, Invasion! where Arrow, The Flash, Supergirl and Legends team up to fight the Dominators and save their Earth.
The official synopsis reads as follows:
Click here to watch Legends Of Tomorrow season 2 episodes live via The CW app. Alternately, you can watch the episode online by clicking here (only in the US).
In Arrow's 100th episode, the Green Arrow and others were trapped in a shared hallucination by aliens called Dominators, but they managed to escape the alternate-reality, and were rescued from the aliens by the Waverider, thanks to help from The Flash, Supergirl, Felicity and Cisco. The episode ended with alien space-ships attacking Earth.
Speaking about Oliver's perfect world in Arrow's 100th episode, executive producer Marc Guggenheim told TV Line, "This was sort of Oliver's version of Flashpoint, and it's a little bit Oliver's version of '[For] the Girl Who Has Everything' from last year's Supergirl."
The producer added, "There's a reason why these stories are iconic or familiar tropes... It's because when you show the protagonist the path not taken, and you basically put them in the situation where they can choose to stay on that path or go back to their life with all of its ugly aspects and challenges, and they choose the selfless choice of returning to that ugly past, it makes your character stronger."
A promo for this Thursday's episode of Legends, reveals what the Dominators want. A government official tells everyone, "If Mr Allen surrenders himself, they will leave us in peace."
Will Barry give himself up to save everyone? Do not miss the concluding episode of DC's four-night crossover this Thursday on The CW Network.