Lewis Hamilton is unwilling to allow his friendship with Sebastian Vettel to be compromised in the same way his relationship with Nico Rosberg was hurt during their battle for the Formula One world drivers' championship. The pair have raced at various stages of their motorsport career but in 2017 are set to go head-to-head for the title for the first time.
After watching Vettel cruise to victory in the opening race of the season at the Australian Grand Prix, Hamilton responded with a convincing win in China to leave them level on points with two races gone. The pair embraced after the contest in Shanghai – a response that stood in stark contrast to the disharmony between previous world title rivals.
Hamilton and Rosberg, who had risen through the ranks together before settling in F1, were at loggerheads for much of their three-year tenure together at Mercedes, with regular crashes causing tension across the Silver Arrows garage. The pair were barely on speaking terms when the German ended the Briton's two-year stranglehold on the championship last season.
Hamilton is unwilling to allow a similar fate to befall his friendship with Vettel, but has not ruled out arguments during the campaign. "I honestly think it will stay the way it is," he said of the pair, who have scooped the title seven times between them. "Who knows, maybe we will have times when we are racing hard and there could be a scenario where one of us thinks something is unfair – being too aggressive or whatever – but we are grown men, we have come a long, long way. We have experienced a lot, I think the respect for one another is the highest I have felt from another driver, especially of his calibre.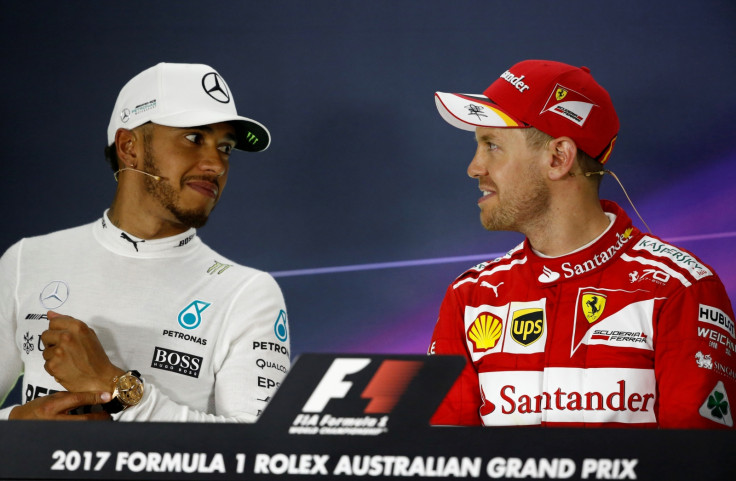 "It's amazing sportsmanship – when you win he enjoys it and acknowledges it, and when you lose the same thing. We are both doing that and I think that is a great place to be. Naturally he wants to beat me and vice versa but outside the car there is admiration for the others' achievements and the way they drive. He is performing at his best – he is rapid out there – so when I am able to get ahead it is a compliment and vice versa."