Lewis Hamilton and Sebastian Vettel could deliver the calibre of Formula One rivalry which fans were denied when Ayrton Senna was tragically killed at the start of Michael Schumacher's dominance of the sport in 1994. The Brazilian driver died following a crash in the San Marino Grand Prix, the season when Schumacher won the first of his record seven world drivers' titles.
Senna won the championship three times in 1988, 1990 and 1991 prior to his untimely death and Schumacher's rapid rise in the sport with Benetton had appeared to set the pair on collision course to engage in one of the sport's finest head-to-head battles. But following the passing of Senna aged 34, Schumacher strolled almost unchallenged to the title that same season before doubling up in 1995. Five consecutive titles then followed at the turn of the century to transform the German into the most successful F1 driver in history.
Mercedes and Ferrari appeared destined to lock horns in the first cross-team battle for silverware for many years after years of dominance from the Silver Arrows. Hamilton followed up Vettel's victory at the Australian Grand Prix by prevailing in Shanghai to leave the pair neck-and-neck after two races.
And ex-British F1 driver Martin Brundle – a former teammate of Schumacher at Benetton – believes Hamilton and Vettel have the capacity to play out one of the sport's finest battles which the loss of Senna denied supporters of in the 90s. "This has become a Lewis Hamilton versus Sebastian Vettel season already," he told Sky Sports.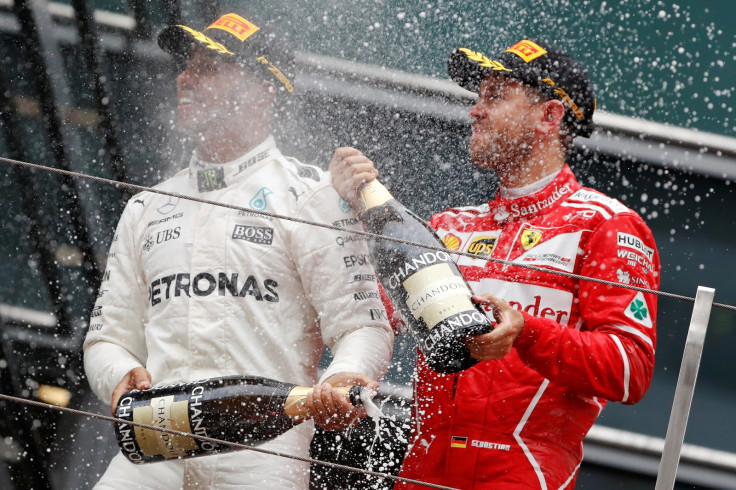 "Mercedes and Ferrari are so closely matched that they now each have to choose one driver to support for the Drivers' Championship. At the same time they have to motivate and enable their 'second' drivers to score as many points as possible, and to pick up victories when the main man has a problem, in order to secure the highly-coveted constructors' title for these two great rivals.
"All square at the top of the points going into Bahrain, we finally have a true Vettel/Hamilton head-to-head. Can it even become the Senna/Schumacher battle we were largely denied? The excitement, respect and sense of happiness on the podium was very evident to me, which is why I felt the need to mention it. In recent years it's occasionally felt like a dentist's waiting room up there among the lucky but grumpy victors, but not any more."