Lewis Holtby has revealed that he signed for Tottenham in order to compete for trophies and suggested that he even feels the side could soon challenge for the Premier League title.
The German international has agreed to move to White Hart Lane in the summer when his contract with Schalke comes to an end.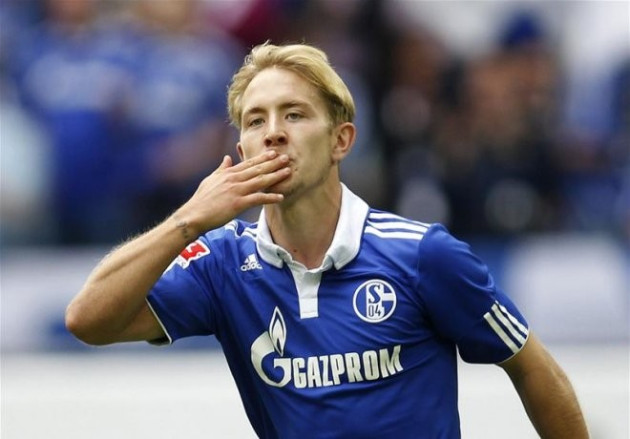 Having competed for Schalke in the Champions League this season it is clear that the midfielder has high ambitions and that he feels that Tottenham are the right club to join in order to win major honours.
"Tottenham have got some big aims that I want to help them achieve," Holtby told the Sunday Mirror. "The club has really ­progressed and they are ­establishing themselves as a top-four team.
"In the future, and if the ­players stick around, then of course ­Tottenham can ­challenge for the title. I'm not predicting it will definitely happen, but it is certainly something we can aim for. I have big goals and I want to win trophies with Tottenham.
"Tottenham is the whole ­package, I am convinced of that after ­speaking to the manager Andre Villas-Boas and chairman Daniel Levy.
"The club, the team and the infrastructure are all superb. It's a quality set-up. That's where Tottenham should be, up the top and I'm so excited that I will be a part of it.
"If you are asking me who the ­exciting Spurs ­players are, then I would have to name the whole team because it's full of stars. To play with and compete with these guys will improve my game, for sure."
Holtby was one of the most coveted players in European football, and was believed to have turned down the likes of Liverpool and Arsenal in order to join Tottenham.
The 22-year-old is not the first high-profile German to make the move to north London, as former striker Jurgen Klinsmann became a cult hero at the club after two spells at White Hart Lane.
Holtby is too young to remember the legendary forward but he revealed how pleased he was to be playing for the same team that Klinsmann represented.
"I was a bit young to properly remember Jurgen Klinsmann at Tottenham, but I know he is a legend of the club," added Holtby. "He joined the club with big expectations and everybody thought 'he's a German diver'. But he scored his first goal, made the dive in celebration and that made him very ­popular .
"He's a legend in Germany and at Tottenham, so it's great to be joining the club he played for. I know Steffen Freund from his time working with the ­German national set-up.
"We've had conversations and it will be good to work with him. It will also be nice to have another German lad at the club, even though I consider myself half-English.
"It shouldn't be a problem for me to adapt. My dad's sister, his brother and my nan live in Bedford. My cousin's family are big Tottenham fans. I have a lot of family in the area, which will make me more comfortable."
It has been suggested that Holtby may have picked Tottenham's great rivals Arsenal because of his international colleagues Per Mertesacker and Lukas Podolski. However, the midfielder revealed he is looking forward to playing against the duo as it will make the game even more intense.
"There are also the German lads, Lukas Podolski and Per Mertesacker, at Arsenal and that will make the rivalry even better for me.
"The north London derby is already something I am looking forward to and with those German boys it will be extra-special."