Key Features:
5.5in Quad HD Screen (2560 x 1440 pixels)
Laser autofocus sensor
Android 4.4 (KitKat)
Snapdragon 801 chip with 2GB RAM
Knock Code, Smart Notifications, Smart Keyboard
Price as Reviewed: TBC
LG G3 Review
LG is the world's third largest smartphone manufacturer but here in the UK the company says it struggles at the top end - commanding just 3% of the premium smartphone market - which it says is down to a lack of brand awareness more than anything else.
The company's G2 smartphone was warmly received last year and it is going even bigger and brighter this year with the LG G3 which promises the best screen on a smartphone ever together with powerful performance but without losing out on battery life.
Can LG really succeed on all fronts?
---
LG G3: Design
---
LG's G3 smartphone may be big, but it's also lightweight. At just 149g the phone is incredibly light and this is down to the use of plastic in the construction of the phone rather than aluminium.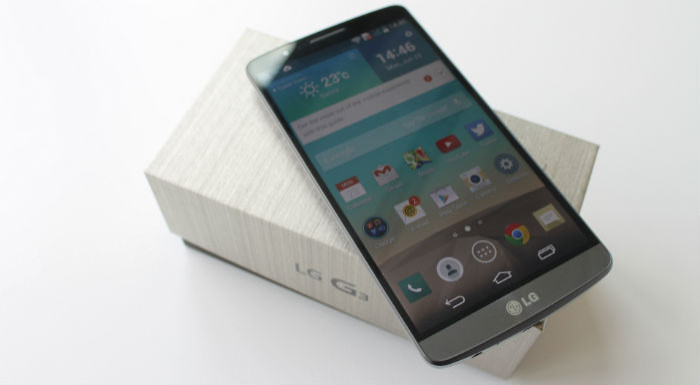 Now I don't really like plastic phones (the Galaxy S5 being a case in point) but LG has created a plastic phone which is the least plastic-feeling I've ever used.
The brushed metallic rear cover looks and feels great with the narrow bezels and clean lines creating a sleek look.
The phone may have a 5.5in screen, but LG has done everything it can to squeeze that screen into a chassis which is not much wider than the Galaxy S5 (74.6mm vs 72.5mm) which has a 5.1in screen.
The result is that the phone is not nearly as awkward to use single-handed as it originally sounded. Yes it is still a struggle for those of us with smaller hands, but the curved rear makes it comfortable to hold.
LG decide to position the power and volume buttons on the rear of the G2 last year and continue in that vein with the G3. It makes for a sleeker profile, and while the positioning does takes some getting used to, in the end the system works rather well, though you can find yourself trying to press the camera lens rather than the power button at times.
---
G3: Screen
---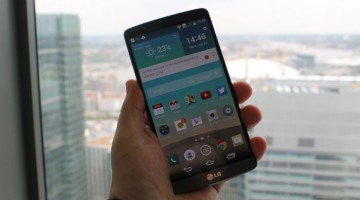 The figures are quite staggering.
The G3 features a 5.5in screen with a 2560 x 1440 pixel resolution, giving it an eye-wateringly sharp pixel density of 534 pixels per inch (ppi). For comparison, Apple's iPhone 5s' 4in Retina display is 'just' 326ppi.
LG has reduced the individual pixel size by 44% with the sub-pixel count topping 11 million - nearly twice that of a Full HD IPS display.
LG says the screen on G3 is akin to the quality you would expect from a fine art book and it's hard to argue with the company.
The screen is simply the best available on any smartphone today. Ultra-crisp, bright and clear, it offers flawless viewing angles, a natural colour reproduction and is as good as it gets for outdoor viewing on a smartphone.
---
LG G3: Hardware
---
Again LG has spared little in this department, sticking the powerful Qualcomm Snapdragon 801 chip together with 2GB of RAM inside the G3. The result is superb performance no matter what you throw at it, but this is performance which is pretty much identical to what you will get from the rest of the premium smartphone market.
The G3 did also get slightly warm when used for extended periods of time.
Elsewhere, hardware specifications are as expected with 16GB in-built storage paired with a microSD card slot for expanding that by a further 128GB. In terms of wireless connectivity you get the usual Bluetooth 4.0 and NFC as well as support for the faster Wi-Fi AC standard.
---
LG G3: Battery Life
---
With such a huge and high resolution screen to power, you would expect a significant drop in the superb battery life which was one of the G2's big selling points.

But LG has worked miracles to maintain that excellent battery life, using adaptive frame rates, adaptive clocking and adaptive timing controls to enhance power saving depending on when you are using your phone.
The result is that the G3 is easily on a par with the battery life of the top smartphones on the market, and I found that some days I was able to go well into day two of typical use before needing to recharge the battery.
---
LG G3: Camera
---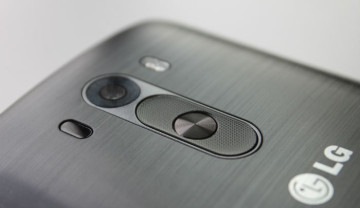 LG's big play on the camera front this year is the inclusion of a laser autofocus system which the company claims can focus on an object faster than the blink of a eye (276 milliseconds in case you were wondering).
This is a feature normally reserved for high end DSLR cameras and it works brilliantly. By simply tapping on the screen where you want to focus, the camera on the G3 focuses and captures and image at the same time.
The quality of the images may not match the Xperia Z2 or Lumia 1020, but the 13 megapixel sensor produces excellent results in almost all conditions.
Low light performance is probably not up to that on the Galaxy S5 or HTC One M8, but is still acceptable.
There are a number of fun modes available also and a handy function sees you able to take selfies by simply holding up your hand and making a fist to launch a countdown timer.
---
LG G3: Software
---
Like all major smartphone manufacturers, LG adds software skins to the underlying Android OS. In this case it's LG's new UI sits on top of Android 4.4.2 (KitKat).
LG has scaled back its software but it is still pretty heavy, and introduces a new flat design language that has more than a passing resemblance to iOS 7.
The new UI does introduce some interesting new features however. The first is Knock Code, which offers an alternative way to unlock your smartphone - replacing a pin or pattern - and which can be used without having to wake the phone up first, which is really handy.
The second is the new Smart Keyboard, which is certainly a step up from traditional keyboards, and makes full use of the bigger screen size. It also allows for a lot of customisation, even letting you raise and lower the keyboard on the screen to suit your hand size. In the end though I think I still prefer Swype for fast and accurate typing.
Finally, LG has added Smart Notifications which are essentially somewhere between normal system notifications and Google Now updates. The notifications are based on your location, phone status and your usage behaviour, offering personalised tips and tricks. They work as you would expect and while some of them can be quite informative, I could easily live without the extra notifications.
---
LG G3: Value and Verdict
---
LG's G3 is a real Android superphone. It has an incredible screen, superb battery life, top class performance and a fast camera.
Yes the phone is plastic, but as oxymoronic as it may sound, this is premium plastic and the LG engineers have done well to make such a large-screen smartphone seem as small as it does.
The software LG has put on top of Android may not be to everyone's taste, but there are enough innovative features in there to outweigh the bad.
LG has yet to confirm a SIM-free UK price before it's launch at the start of July, but looking at the rest of the smartphone market we are expecting a price in the region of £550-£600 without a contract.
On contract the phone is available for free on two-year deals costing £38-a-month on O2.
For those looking for a big and bright smartphone with top class performance, a great camera and a best-in-class screen, then the LG G3 matches anything on the market today.
Scores:
Screen 10/10 – Big, sharp and bright. As good as it gets
Camera 8/10 – Fast and accurate with lots of features. Low light performance not quite perfect
Software 9/10 – LG's skin is heavy but offers some innovative features
Design 9/10 – Plastic, but good quality plastic
Build quality 10/10 – Excellent all round
Overall 9/10 – A true high-end smartphone with the best smartphone screen on the market
The Good:
That screen
Great battery life
Fast, accurate camera
The Bad
Likely expensive
Low light camera performance not quite up to scratch