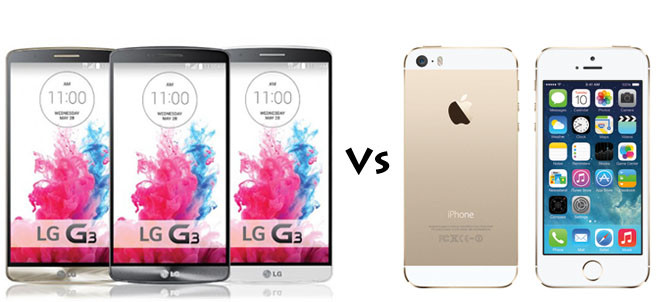 Even though Apple and Samsung have always been making the most noise in the smartphone industry, LG has been steadily growing thanks to a number of bestselling handsets like the LG G2 and Nexus 5.
The company managed to rake in the third highest revenues in the global mobile phone market in the first quarter of this year, behind Samsung and Apple.
Today, LG launched its latest flagship smartphone, the LG G3 - but how does it stack up against Apple's iPhone 5s?
---
LG G3 vs iPhone 5s: Display
---
The LG G3 has a 5.5in IPS display with a Quad HD resolution of 2560 x 1440 pixels. This allows it to have an eye-wateringly sharp pixel density of 538 pixels per inch (ppi) - making it easily one of the best smartphone displays on any smartphone to date.
As with previous iPhones, Apple has resisted thje temptation of following the industry's trend of making large-screen smartphones and phablets. The iPhone 5s uses the same 4in Retina Display that we previously saw on the iPhone 5. While it offers a solid visual experience - with a pixel density of 326ppi - the display is much smaller than the one on the LG G3.
---
LG G3 vs iPhone 5s: Design
---
The LG G3 uses a light weight metallic casing that gives it an edge over plastic rivals such as the Samsung Galaxy S5. The design encompass curved edges and sports a glossy finish in the rear. Owing to its size, the LG G3 is a handful and won't be comfortable fit for people who don't like large handsets.
LG has continued with its decision to place the volume and power buttons on the rear cover, something it did initially with the LG G2.
Apple's iPhone 5S features an iconic design and premium quality materials that go on to make it one of the most beautifully designed smartphones ever made. It's 4in display allows it fit into one's hand with ease, making it easy to grip and use.
---
LG G3 vs iPhone 5s: Hardware
---
The LG G3 uses a quad-core Snapdragon 801 processor clocked at 2.46GHz along with up to 3GB of RAM. It uses a 3,000mAh battery, comes with up to 32GB of storage along with a microSD card for expansion.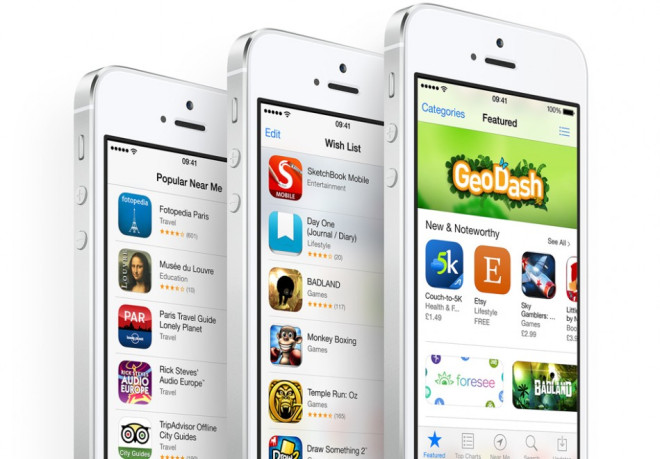 Apple's iPhone 5s featuresthe company's powerful A7 chipset with 64-bit architecture which offers stellar performance and reliability. The phone also features the Touch ID fingerprint sensor which offers a new level of security.
---
LG G3 vs iPhone 5s: Camera
---
The LG G3's camera features a 13 megapixel sensor with optical image stabilisation, dual-LED flash, and a unique laser autofocus for capturing the finer details of the subject. To make operation easier, there is a new 'Touch & Shoot' camera UI.
Apple has retained the 8 megapixel sensor that we saw on the iPhone 5. Apple has added a new slo-mo video mode and the smartphone now features a two-tone flash which improves white balance. When compared to the iPhone 5, this camera has a 15% larger sensor a wider lens that allows more light to enter.
---
LG G3 vs iPhone 5s: Software
---
The handset uses Android 4.4.2 with its own Optimus UI skin on top. The package includes a new slim keyboard design, some special file management features, a new minimalistic user interface and six QuickCircle apps - call log, dialler, music player, messages, clock and shortcuts to the settings menu.
Apple's iOS 7 is a complete redesign of the company's mobile operating system blending performance with a scaled-back, flat design. While it doesn't offers its users as much freedom as Android, it does have a massive selection of high quality apps.
---
LG G3 vs iPhone 5s: Which One Should You Buy?
---
Apple's iPhone has advantages like powerful 64-bit processing, premium build quality, compact size, a fingerprint scanner, and an operating system that offers a beautiful user experience. However, its smaller screen and less-powerful camera might not appeal to some.
The LG G3 offers one of the highest quality displays that we've seen on a smartphone. Apart from this, it features advanced imaging with its laser autofocus and optical image stabilisation. The handset will be one of the top-choices for Android users who are looking for a large display encased in a solid metal body. Thanks to its Snapdragon 801 processor, the LG G3 is a powerful performer that will easily accomplish any task that you throw at it.