With the Apple Watch just around the corner, LG is set to announce its third generation of smartwatch - and it's the company's best-looking, most premium offering yet.
Called the Watch Urbane, the wearable runs the same Android Wear operating system shared by most other smartwatches, but unlike its square, plastic forefathers, the Urbane has a round face, classy metal body available in gold and silver, and a traditional leather strap.
The watch will be debuted at the Mobile World Congress trade show in Barcelona next month, just weeks before the Apple Watch is expected to go on sale. The Urbane has the same 1.3in circular display as the LG G Watch R, but features a narrower bezel.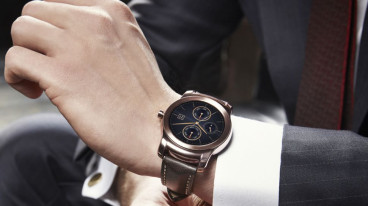 Despite this, the Urbane is slightly thicker than the G Watch R - 10.9mm compared to 9.7mm - but is slightly more compact in length and width - 45.5mm x 52.2mm compared to 46.4 x 53.6.
Any 22mm strap can be fitted to the Urbane, giving buyers near-limitless ways to give their watch a unique look. The stainless steel body comes in silver or pale gold, similar in colour to the Apple Watch Edition, but lacking its use of real gold.
As with the G Watch R, the LG Urbane has a heart rate sensor which works alongside accelerometers to track your exercise. The watch works with Android phones running version 4.3 and above, and the display can be set to stay on permanently, becoming brighter when you tap it or raise your arm. Battery life is expected to be the same as other Android Wear watches, at one full day.
LG Mobile president Juno Cho describes the Watch Urbane as part of its strategy to "develop wearable devices that are worn and viewed as everyday accessories, not electronic gadgets."
Mimicking the G Watch R, the Urbane is powered by a 1.2GHz Qualcomm Snapdragon 400 processor, has a resolution of 320 x 320 and a pixel density of 245 per inch, has 4GB of storage, and is water resistant to up to one meter.
There's currently no word on price or a release date, while the Apple Watch will start from $349 (£227) and is expected to go on sale in March or April.
Wearables will take centre stage at MWC in Barcelona next month, along with new flagship smartphones from Samsung, Sony and HTC.
IBTimes UK will be on site to bring you all the latest announcements and hands-on reviews as they happen.