Libya Tortured Immigrants Speak: 'Guards Whipped me with Metal Wire and Punched me all Over my Body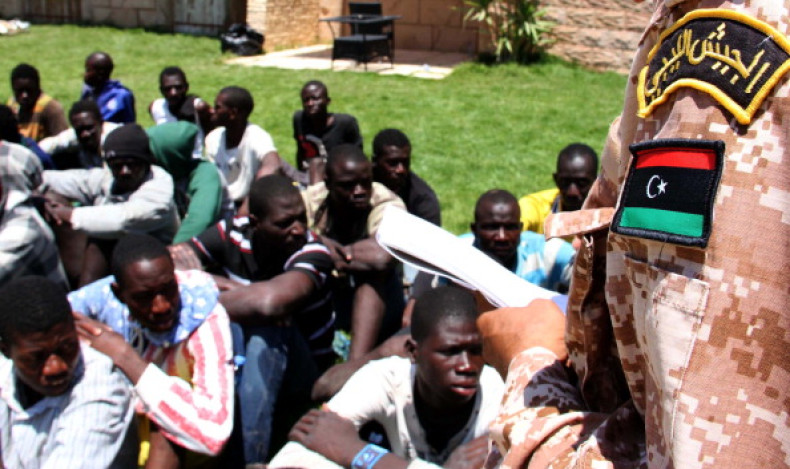 Immigrants and asylum seekers in Libya say they have been tortured and abused by guards in detention centres run by the country's Interior Ministry.
More than 130 detainees told NGO Human Rights Watch (HRW) they were beaten with irons, sticks and rifle butts, whipped with cables and plastic tubes on the soles of their feet, and burned with cigarettes.
In one centre, five detainees said guards suspended them upside down from a tree and then whipped them. Another four said guards threatened to shoot them or shot above their heads to intimidate them.
The detainees were also strip-searched upon arrival. The procedure included a full cavity search.
"When the guards don't like what someone does, they come in and shout and beat him with sticks. When I arrived here, the guards put us [23 women] in a room, told us to take off our clothes and then put their fingers inside our vaginas," a 21-year-old Eritrean woman said.
Another detainee told HRW: "They whipped me with metal wire and beat and punched me all over my body."
The immigrants were also forced to live in over-crowded spaces blighted by poor sanitary conditions, and did not have access to medical care.
"In centre after centre, detainees lined up to talk about the daily fear in which they live, wondering when the next round of beating or whipping will come," said Gerry Simpson, senior refugee researcher at HRW.
"The authorities have turned a blind eye to these terrible abuses and created a culture of complete impunity for abuses against migrants and asylum seekers.
"The political situation in Libya may be tough, but the government has no excuse for torture and other deplorable violence by guards in these detention centres," Simpson continued.
HRW urged both the EU and Italy to stop supporting and funding the detention centres in Libya, until the government agrees to investigate on the abuses and the detention conditions are improved.
"The EU and Italy have committed at least €12 million (£9.5;$16) over the next four years to the centres," the NGO said. "If the abuses end, the EU and Italy should also seek an agreement with the Interior Ministry on how further aid will be used to bring detention conditions in line with minimum international standards by the end of 2014."
Amnesty International also documented cases of violence by guards in three migrant detention centres in 2013.