A Libyan military commander stands accused of summarily executing nine men at the site of a recent car bombing in Benghazi. The UN has demanded that Mahmoud al-Werfalli be handed over to them after images surfaced online appearing to show him carrying out the extrajudicial killings.
The alleged shootings took place outside Bayaat al-Radwan mosque in the eastern part of the city, where at least 33 people were killed and a further 87 were injured in twin blasts on Tuesday 23 January.
The UN Libya mission, UNSMIL, described the images as "alarming" in a tweet, and demanded that alWerfalli be handed to the International Criminal Court.
It further claimed to have evidence that the commander had carried out five similar executions in 2017.
"Those responsible for committing or ordering summary executions are criminally liable under international law," it said.
Local media reported that the executioner in the photos is al-Werfalli, although Reuters has been unable to confirm this.
The pictures, which quickly went viral on social media, show nine bound and blindfolded men kneeling in a line while a gunman makes his way from one to the next, appearing to shoot them.
Al-Werfalli is attached to Khalifa Haftar's Libyan National Army (LNA). The force controls Benghazi after overcoming Islamist opposition in the city last year.
In August last year the ICC announced that it was seeking his arrest prompting the LNA to say it was investigating his actions. However, his special forces unit dismissed the ICC warrant.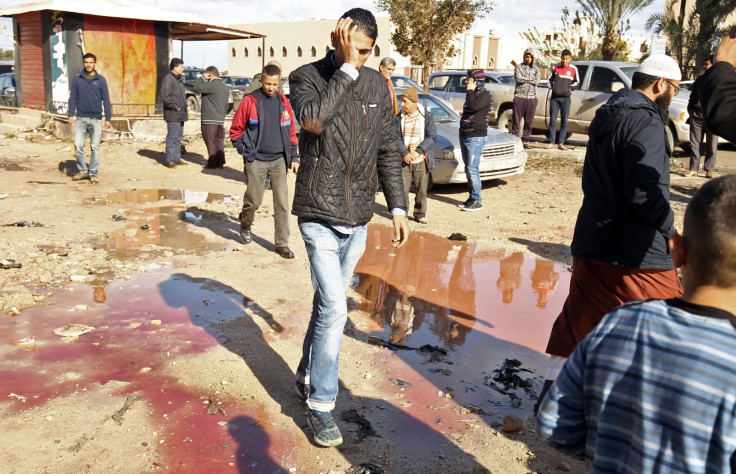 The pictures emerged just as UN Libya envoy Ghassan Salame visited Benghazi on 24 January to meet with Haftar at a military compound following the car bombing. Haftar is increasingly being courted by the international community as he has gained power on the ground in Libya, which has fractured since the downfall Muammar Gaddafi.
The UN is hoping to organise election in Libya by the end of this year, with Haftar potentially in the running for power.
There have also been reports that Gaddafi's son Saif al-Islam could throw his hat into the ring. Saif had carved out an influence in his father's regime, proving instrumental in the negotiations that led Libya to abandon its weapons of mass destruction programme, and playing a prominent role in several diplomatic missions.
A spokesman for the LNA did not respond to Reuters for comment on the pictures.