Lin-Manuel Miranda may have taken his last stand on Broadway as the titular character in the Tony award-winning musical Hamilton, but the actor is set to go back to the time of the US founding father, this time for a comedy show.
The stage icon is set to narrate the story of the rivalry between Alexander Hamilton and Aaron Burr in the new season of Comedy Central's Drunk History, the network announced at the San Diego Comic Con. This is the second time the story of Hamilton and Burr is going to feature on the show. It was also enacted in the very first episode that aired in August 2007.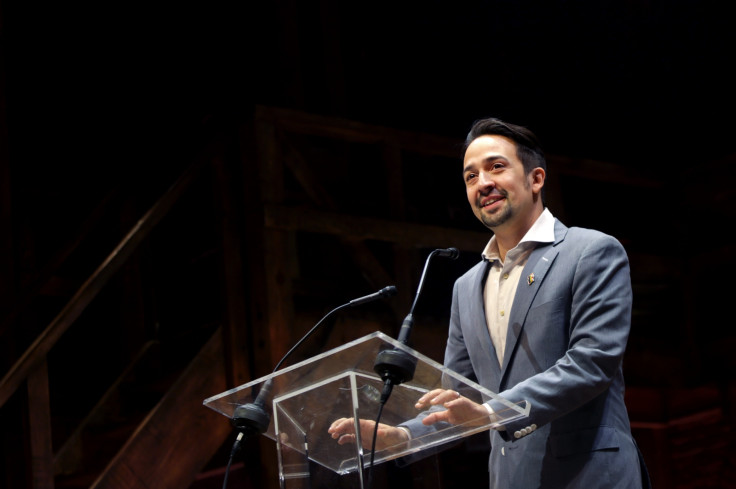 In December 2015 Miranda was asked when he plans to get drunk and tell the historic figure's story. The actor responded to the tweet saying: "Hamilton was the first story ever told on Drunk History. I'd have to get drunk and tell you something else."
Comedy Central announced that season 4 will start airing on 27 September and will feature a number of guest stars aside from the theatre personality.
Other narrators include Paget Brewster who will talk about the friendship between Eleanor Roosevelt and Soviet soldier Lyudmila Pavlichenko; Allan McLeod will explain the rivalry between British actor William Macready and American actor Edwin Forrest as to who was the better thespian.
The new season will also feature Busy Phillips, Mae Whitman, Jack McBrayer, David Koechner, Billie Joe Armstrong, Steve Berg, Rachel Bilson, Michael Cera, Josh Charles, Kat Dennings, Ben Folds, Dave Grohl, Tony Hale, Ed Helms, Thomas Middleditch, Elizabeth Olsen, Aubrey Plaza, Ronda Rousey, Liev Schreiber, Alia Shawkat, Duncan Trussell among others.
The new 10-part season of Drunk History begins airing on 27 September at 10pm ET on Comedy Central.
Watch the previous episode of Drunk History regarding Alexander Hamilton below: