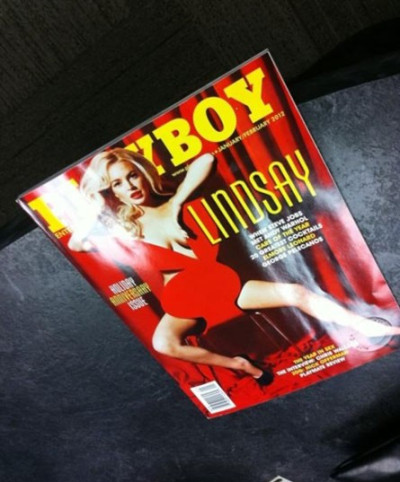 Lindsay Lohan's nude January Playboy shoot has been leaked on Twitter following widespread media coverage on the reported $1million (£640,000) disrobing.
The front cover has emerged online and Lohan looks to be reasonably well covered as she sits on a Playboy chair that saves her modesty.
Although the shots haven't been on display, the front cover is clearly a sign of things to come with the highly anticipated shots available in January.
Hugh Hefner considers the shots to be a classic tribute to the nude Marilyn Munroe shots despite her recent brushes with the law.
"It's a classic tribute, inspired by the original Tom Kelley nude pictorial of Marilyn Monroe. [It's] classy, very classy," he said.
Hefner was reportedly unhappy with the original front cover and demanded the star retake the million dollar shots.
Lindsay has also been hitting headlines after Star magazine published her private diaries which reveal that the actress was in love with now deceased and Batman: The Dark Knight star, Heath Ledger.
She wrote: "Today Heath died. I'm in love with him. He was the love of my life."
She continued: "He taught me so much, and he was everything I've ever wanted and more. I want to hear him laugh and hold me. I crave his touch and care."