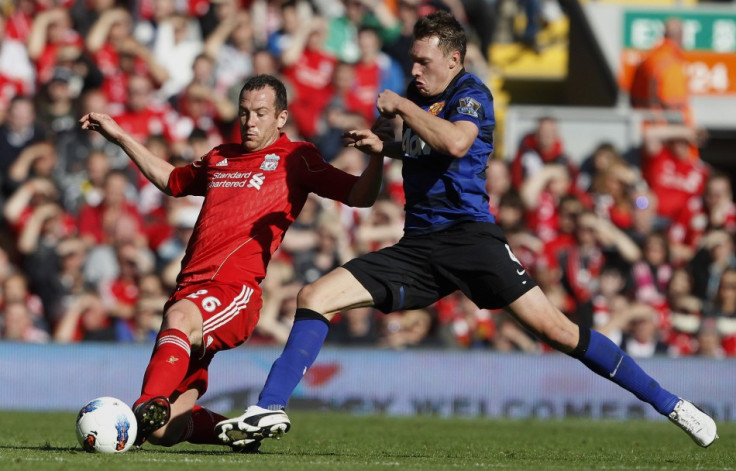 Manchester United's rapidly rising star Phil Jones has reiterated his honour at being compared to Old Trafford icon Duncan Edwards and admits talk of him being a potential England captain in the making is a hugely flattering.
Jones has a made remarkable rise to prominence in the last six-months following his decision to swap Blackburn Rovers for Manchester United on June 13th.
The defender reportedly rejected offers from their Premier League counterparts Chelsea, Arsenal, Liverpool and Tottenham in favour of a £17 million transfer to Old Trafford, and it has certainly paid dividends for the most talked about young English footballer of his generation.
The 19-year-old cemented his reputation as one of the country's most impressively gifted young players for some time with two assured displays during the recent international break.
Fabio Capello played the Manchester United starlet in a relatively unfamiliar midfield role for both games against Spain and Sweden, and although the first was underwhelming but no less assured, the second displayed all the qualities that have prompted many well-informed critics to tip him as a future England captain.
The authority, power, discipline and composure showcased by the Preston born Manchester United star, in a role that is not his preferred, led to Fabio Capello comparing him to Franco Baresi and Fernando Hierro, the towering defenders from AC Milan and Real Madrid respectively, who were both equally adept as defensive midfielders.
Others have heralded the former Blackburn Rovers prodigy as a future England captain, a pertinent observation given the latest debacle surrounding the country's current incumbent, and Jones admits were that to be bestowed on him it would "be the pinnacle" of his fledgling career.
"It's nice to hear people talking about me being England captain one day," Jones told Manutd.com on Thursday. "But I need to keep my feet on the ground and firstly play well for Manchester United. If I do that, then I'll keep getting the chance to play for England.
"If I could captain England one day then I think that would be the pinnacle of my career."
Jones also reiterated the huge honour of being compared to one of Manchester United's most unique and lavishly gifted players in their rich history, Duncan Edwards.
"It's incredible to be compared with Duncan Edwards," he said. "He played for United and England well before my time of course but I knew about him when I was growing up.
"Even to be mentioned in the same sentence as him is a huge honour. It inspires me to go on and become a better player. It makes me want to work even harder in training."
The comparison between Jones and perhaps the most vaunted of Matt Busby's Babes was drawn by Edwards' teammate Sir Bobby Charlton.
Paddy Crerand, an Old Trafford colleague of Charlton's during the 1960s and most notably in 1968 when Busby's Red Devils won the European Cup, revealed just how highly Jones was thought of by one of the club's most significant luminaries.
"If you talk to Bobby Charlton," Crerand said in August, "Phil Jones reminds him of Duncan Edwards with his power and build."
England and Manchester United's greatest ever goal scorer, in addition to many other seasoned observers, have regularly championed Edwards as not only the finest English footballer of all time, but also a talent that in his own way would have surpassed the likes of Pele and Maradona in the pantheon of the greatest ever.
To understand the pertinence of the comparison between Edwards and Jones, it is worth recalling Sir Bobby Charlton's emotional tribute to his friend during the 50th anniversary of the Munich Air Disaster in February 2008.
"Duncan was incomparable," said Charlton on 3rd February 2008.
"He was such a talent, I always felt inferior to him.
"I feel terrible trying to explain to people just how good he was, his death was the biggest single tragedy ever to happen to Manchester United and English football.
"I always felt I could compare well with any player - except Duncan. He didn't have a fault with his game.
"I totally believe he was the best player I ever saw or am likely to see,
"Duncan Edwards I unhesitatingly say was the best player I ever played with."
Edwards was one of the 23 killed in the Munich Air Disaster when Flight 609 crashed on 6th February 1958 following Manchester United's earlier European fixture against Red Star in Belgrade. He died on 21st February in a Munich hospital a full 15 days after the crash. He was only 21 but he left an indelible mark on British football.
Many believed he would have gone on to captain England at the 1966 World Cup finals, having become his country's youngest post-war debutant aged 18 years and 183 days on 2nd April 1955 against Scotland, but instead that honour fell to the legendry Bobby Moore.
"I once played truant from school to watch Duncan play at White Hart Lane." England's greatest ever captain said prior to his own death in 1993. "There will never be another player like him."
Whilst the comparisons with the 'incomparable' Edwards are ludicrously premature, blatantly irresponsible and perhaps unnecessary, Jones' performances for club and country this season have marked him out as a unique talent.
The Manchester United youngster undoubtedly shares similar attributes to Edwards, such as humility, leadership and maturity beyond his years, but wisely he has expressed his desire to carve out his own reputation.
At the beginning of October Jones, perhaps rather bravely, addressed for the first time the links with Edwards.
"It's brilliant for me to even be considered as being a player who could become as good as Duncan Edwards was," Jones said at the beginning of last month. "It is flattering and, for young lads like myself and my team-mates to be compared to great young players of the past, it is an amazing feeling.
"People have told me about Duncan, facts and figures about him, but I obviously know what he means to this club.
"When you come into training in the morning, knowing that people are talking about you in the same breath as players of the Busby era, it is fantastic, but I can't let it affect me.
"I have to play my own game and continue to do what I have been doing so far."
Further comparisons with Edwards will inevitably follow with every eye-catching performance from Jones, but given the unusually refreshing realism currently surrounding the national side, even in light of the recent victory over the world and European champions at Wembley, perhaps here is a perfect opportunity to put that into practice.
Like many of our country's talented young players currently saturating a previously stale England squad, Jones will benefit from being afforded the space and time to develop as man and footballer, without being burdened by lavish comparisons to their iconic predecessors. Jones is no Edwards, but in time we may just settle for the 19-year-old to be himself.