A lion has bitten off a woman's finger after she went to stroke it at a zoo in Michigan, US.
Renae Ferguson told WNEM: "I put my hand down there to pet it and it ripped my finger."
Ferguson had been visiting the Sunrise Side Nature Trail and Exotic Park with her daughter and said a worker had let them into the lions' cage.
One of the lions turned on her as she went to pet it, biting off part of her middle finger:
I was totally in shock. I really didn't believe that was part of my finger laying on the ground."
Tina Dobson, Ferguson's daughter, said more precautions should be taken to protect people and the animals at the zoo.
However, her mother said she has learned a valuable life lesson: "They are beautiful, but don't do it." Ferguson now plans to take legal action against the zoo, claiming they told her to keep the incident a secret.
The owner of the zoo denied this, telling WNEM: "The lady went into the security area and was told by the guide to get back and the lady stated she wanted to touch the lion and continued, against the guide's warning, to put her finger inside the fence and the lion nipped the end of her finger."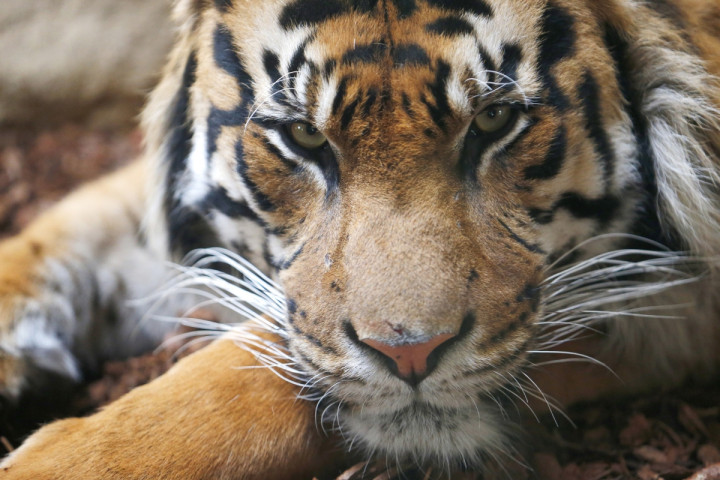 The incident follows reports of a tiger handler being bitten on the leg at a zoo in Queensland, Australia. Mark Turner was attacked as he tried to move the 130kg male Sumatran tiger and suffered puncture wounds to his left leg.
Earlier this week a 16-month-old girl was also scratched by a lion in a circus in France, injuring her head and back. She had wandered into a security area when the lion stuck its paw out of its cage and scratched her.
Commenting on the recent attacks, a spokesman from Peta said: "All these attacks were preventable and utterly predictable. Attacks on people by captive big cats – which occur with staggering regularity – illustrate the profound level of stress, anxiety and agitation that wild animals experience in captivity. Captive big cats cannot engage in normal behaviour, such as running, jumping and hunting.
"Every facet of their lives is controlled, including when and what they eat, when they sleep and with whom they mate, so is it any wonder that they lash out in frustration? Lions and tigers don't belong in France, Australia or the US.
"It's time we stopped treating these complex wild predators as cuddly kittens to gawk at for our amusement and allowed them to live freely in their natural habitats, for their sake as well as ours – or the next human victim of a captive-animal attack may lose more than a finger, and it will be our own fault."