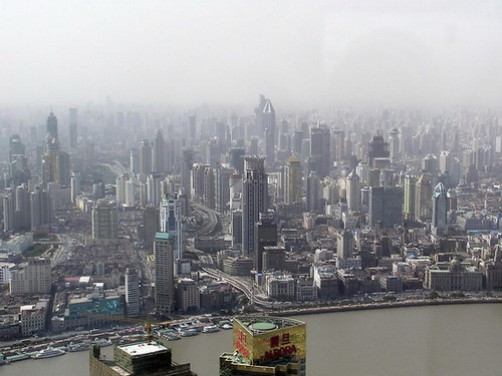 At least 15 people have died in a chemical leak at a cold storage plant in China's commercial capital of Shanghai, according to state media.
More than 30 people were receiving treatment in hospital following the liquid ammonia leak, which was reported to have occurred in the refrigeration unit of the factory, the official Xinhua news agency reported.
The one-sentence Xinhua report did not give any other details.
The Shanghai government information office said the accident happened at a plant in the Baoshan district of the east-coast city.
Six of the injured were in a serious condition, the municipal government announced in a posting via its official account on Sina Weibo (the Chinese Twitter), state-run Xinhua news agency reported.
The incident occurred at about 11am on Saturday in the city's northern district of Baoshan at a cold storage unit owned by a seafood company, the information office said.
The Xinhua news agency identified the plant as Shanghai Weng Pai Cold Storage Industrial Company.
The company is engaged in the import and export, storage, processing and sales of aquatic products, according to its website.
Photos on the website of the Xinmin Evening News, a local newspaper, showed fire engines at the scene with hoses on the ground.
The Information Office said rescue work at the plant was over. The cause of the leak was not known.
The government did not say whether the company's workers or people living in the urban area nearby were affected.
Liquid ammonia is a corrosive agent used in refrigeration and can cause burns on the skin and potentially fatal destruction of lung tissue.
The plant has the capacity to freeze 150 tonnes of products a day, according to its website.
Industrial accidents are common in China, partly as a result of the country's lax safety and building standards.
Shanghai is considered to be more tightly regulated than other cities in China, but this is the second accident at a food company in the city in less than a month.
On 20 August, five workers at a Shanghai food company died after inhaling poisonous fumes while cleaning a vat used for making pickled vegetables, the government said.
In June, 120 people died and 77 were injured when a fire engulfed a chicken processing plant in northeastern Jilin province.
Shanghai, one of the world's largest cities, is a global financial centre and the world's largest port. The densely populated city is home to 18 million people, with an average 2,683 people per square kiliometre.