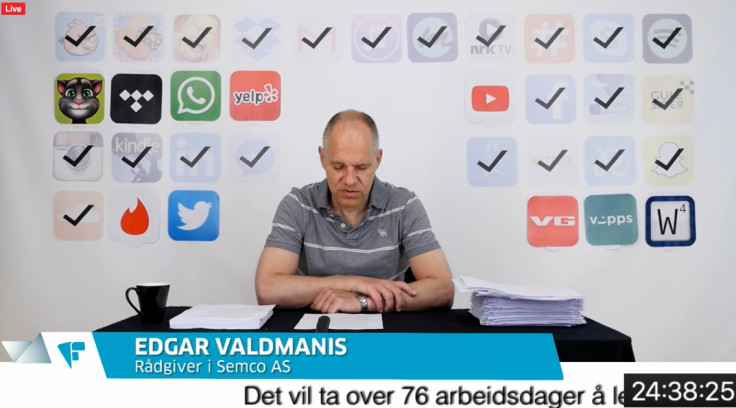 Have you ever bothered to read the terms and conditions of an application on your smartphone? The answer, given these are often thousands of words long, is almost certainly no.
But what if you actually sat and read them all, for 33 of the most common smartphone apps? This is what Norway's consumer protection agency is doing. It is reading every word of the terms and conditions for apps including Facebook, Skype, Spotify, Snapchat, Twitter, Instagram, Tinder and others.
The lengthy documents are being read out on a live video stream, which at the time of writing on the morning of 25 May had just ticked past the 24-hour mark, and there are still 10 of the 33 chosen apps left to plough through. If watching people read through terms and conditions sounds like your idea of fun, the live video stream is being broadcast here.
The agency, known as the NCC, has a rota of people to take turns reading through the mind-numbing pile of legalese in the hope that tech companies will realise how unlikely it is that anyone in the real world will actually do this for themselves. In reality, we all click or tap on "I agree" without reading a single word of the terms and conditions, because we know that disagreeing with any single point will mean we cannot use the app.
Speaking to Ars Technica and the 250,000-word readathon, the NCC said: "Reading 250,000 words of app terms and conditions is an impossible task for most people. We hope this will highlight what consumers actually click 'OK' to. Many apps also take away our rights by granting themselves the power to unilaterally amend the contract. It is self-evident that consumers are put at a disadvantage."