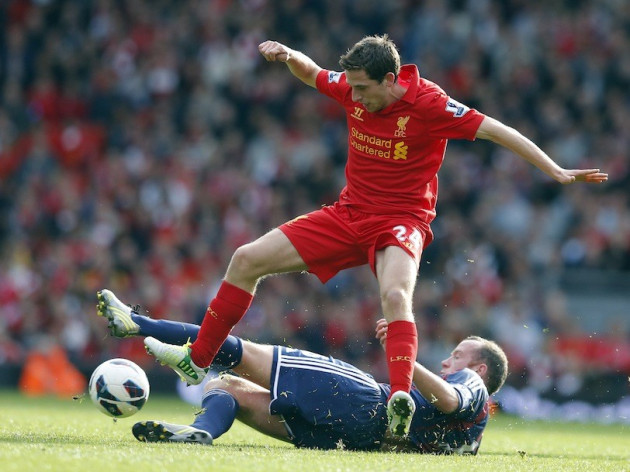 Brendan Rodgers has claimed he will show plenty of patience with Joe Allen as the midfielder looks to work his way back into Liverpool's starting line-up, with the Reds boss sticking by his words that the former Swansea man can become the Welsh Xavi of European football.
Allen has suffered from a bad injury spell that kept him out of action from the end of August until the weekend's match with Newcastle. He was an unused substitute in the disappointing 2-2 draw between the sides but Rodgers is mindful that he is still getting back to full fitness.
The manager has always insisted that he has faith in the Wales international to become a key figure in Liverpool's midfield and though he is yet to produce the form that put him on the map at Swansea, Rodgers argues that this will come.
"There's a vulnerability in every player, no matter how good they are," he said, according to the Liverpool Daily Post. "It's the job to manage them and give them the confidence.
"When in the Premier League with Swansea, every manager, every team we played, even the biggest ones, always mentioned Joe Allen. They said they never realised how good he was until they were up against him.
"But then after the injuries sort of curtailed his form it was bit-part really. But I've never ever doubted his quality and ability. Over time he'll show that."
Rodgers also said that the 23 year old is ready to get back on the pitch and will only add to what has been a successful start to the season for Liverpool, but he needs some patience at first.
He explained: "He looks very good in training, the most important thing is to have him available. He's a really, really talented player, the type of player that gets underrated in this country.
"They are the bravest players for me, players who will go to within 25 yards of their own goal to get the ball. He's a really gifted player and hopefully he'll make a real impact for us."
On comparisons with Xavi, Rodgers quipped: "He's a very clever boy, intelligent, and he's heard me talk about him like that before.
"I just think, as you guys who cover the patch know, that this is a special football club, when you put on the jersey it is heavier than most.
"It can take a little bit of time. Some will make an instant impact, others will be more gradual. Joe will demonstrate he's a top, top player over time."