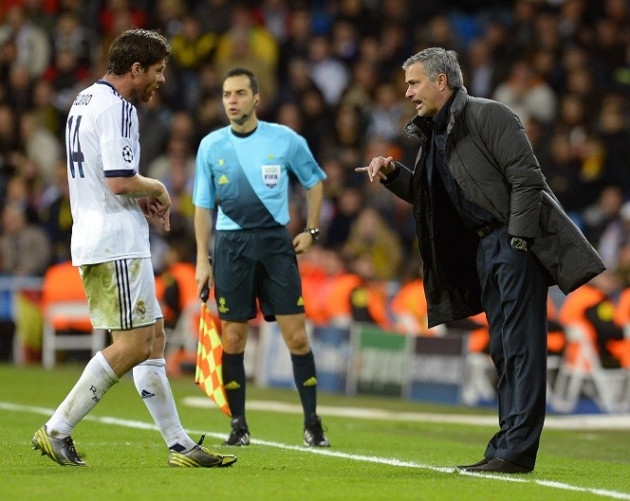 Chelsea manager Jose Mourinho is hoping to be reunited with Real Madrid midfielder Xabi Alonso next summer as he looks to sign the former Liverpool favourite on a free teansfer.
Alonso has failed to agree a new deal with the Spanish giants and will be able to sign a pre-contract agreement in January with a non-Spanish club.
The 31-year-old has found memories of his time in the Premier League as he helped Liverpool win the Champions League back in 2005 and the FA Cup the following year before joining Madrid in the summer of 2009.
Alonso worked with Mourinho for three years while at the Bernebeu and it seems the Portuguese tactician is keen to be reunited with the Spain international next summer.
The Evening Standard reports that Chelsea are prepared to offer Alonso a three-year contract although there is bound to be plenty of interest from clubs around Europe for the classy midfielder.
Mourinho fell out with a number of Madrid players during his time at the club but Alonso was one of the few that stood up for the controversial manager even after he had completed a return to Chelsea.
"He's someone who can touch a chord and knows how to perfectly transmit messages in the dressing room. He is a good communicator," declared Alonso.
"He knows how and when to make quick decisions which can change the outcome of a game."
Alonso has struggled with injuries at the start of the new campaign and is yet to feature under new manager Carlo Ancelotti. His place in the side has also come under threat with Madrid spending more than €30m in the summer to land Asier Illarramendi.
The Spaniard spent five years at Liverpool and has been linked with a possible return to Anfield but which will depend on the offers he receives in January it could well be one of the final moves of his long and successful career.