Liverpool managing director Ian Ayre has once again reiterated the club's stance that they have no intention of cashing in on star striker Luis Suarez.
The Uruguayan has been in sensational form this season and currently tops the Premier League scoring charts with 22 goals. This has led to speculation that some of the biggest clubs in Europe would attempt to lure the striker away from Anfield.
With Liverpool looking likely to once again miss out on Champions League football next season, there was a suggestion that Suarez may look to move to a club who can offer him a chance of European success.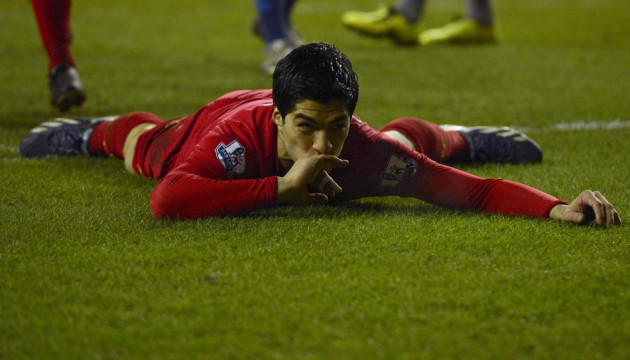 However, the striker has always stated his desire to remain at Liverpool and Ayre has made it clear that the club have no intention of selling their prized asset.
"To play at the highest level in the Premier League and European soccer, you need players like Luis and Steven Gerrard on your team," Ayre told Sports Illustrated. "So the last thing in our mind is selling Luis Suarez. He's not for sale. It's not something we're interested in.
"I remember when they (Fenway Sports Group) bought the team, John (Henry) made a comment in the media: We don't want to just build a team to win but to keep winning. To do that you have to have a number of world-class players on your team."
Liverpool did enjoy success in the January transfer window by securing the services of Daniel Sturridge and Philippe Coutinho, both of whom have excelled in the short time they have been at the club.
However, while Ayre has been pleased with the duo he suggests that Liverpool need more world class players and has given some insight into how Brendan Rodgers works to identify targets.
"We were very pleased with the most recent window in January with Philippe Coutinho and Daniel Sturridge. It's a combination of skills and people and processes that bring us to what we're trying to achieve," explained Ayre.
"I think the fundamental shift particularly around player acquisitions and disposals was that we took the view that it needs to be more of a science. Your biggest expenditure line can't be the whim of any individual.
"What we believe, and we continue to follow, is you need many people involved in the process. That doesn't mean somebody else is picking the team for Brendan. But Brendan needs to set out with his team of people which positions we want to fill and what the key targets would be for that."
When Liverpool were bought by the Fenway Sports Group, a lot was made of the 'Moneyball' process of recruiting players. But Ayre explained that the transfer process is a combination of Rogers working closely with his scouts and assistants in order to identify the right players.
"He has a team of people that go out and do an inordinate amount of analysis work to establish who are the best players in that position," added the Liverpool director.
"It's a combination of old-school scouting and watching players - and that's Brendan, his assistants, our scouts - with statistical analysis of players across Europe and the rest of the world.
"By bringing those two processes together, you get a much more educated view of who you should and shouldn't be buying. And perhaps as fundamentally, how much you should be paying and the structure to those contracts.
"I think we've had relatively good success since we deployed that methodology. We're getting better all the time. Just as you think our football is getting better, our transfer activity is getting better."