Multiple reports are claiming that Kenny Dalglish is in limbo over his job at Liverpool, with Fenway Sports Group currently in the balance over whether to keep the Reds manager on board.
Dalglish has had mixed success in his first full season at Anfield, taking out a Carling Cup trophy and coming close to more silverwear in the FA Cup final as well, but suffering from particularly poor league form that left the club in eighth position at the end of the season.
And as the manager flew to Boston yesterday to meet with Liverpool's owners, speculation has gone into overdrive from the likes of the Telegraph and the Evening Standard that he could be unable to satisfy FSG in their belief that the club are heading in the right direction.
While young signings Andy Carroll and Jordan Henderson are finally starting to show some promise for the Reds, after spending over £100 million in transfer funds during his time at Liverpool, Dalglish has left a lot to be desired.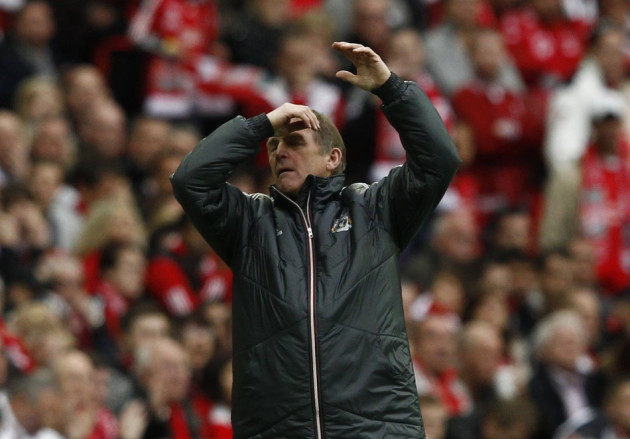 The manager has often blamed bad luck for his team's losses, but winning just three of their final 10 fixtures, and displaying some of the worst conversion figures in the league, has shown that the squad have more problems than just bad luck.
Luis Suarez has been a breakthrough signing for Dalglish, but the star was at the centre of great controversy this season when he was found guilty by the FA of racially abusing Manchester United left back Patrice Evra.
Dalglish and Suarez's actions after the verdict resulted in FSG getting involved and reportedly ordering the pair to apologise as the Liverpool brand took a beating from worldwide press.
The Liverpool Echo is reporting that Dalglish has now departed on a family holiday, and no decision over his future has been made as yet.
It would appear unlikely on the outset that the former Reds star would be sacked by his club, with Dalglish still a firm fan favourite and having made a host of signings that have always been touted for big things in the long term rather than immediately.
But without Champions League football next season, the Mersyside club will be taking another huge hit financially, and the possibility of signing players will be more difficult with competition from the likes of Arsenal, United and City.