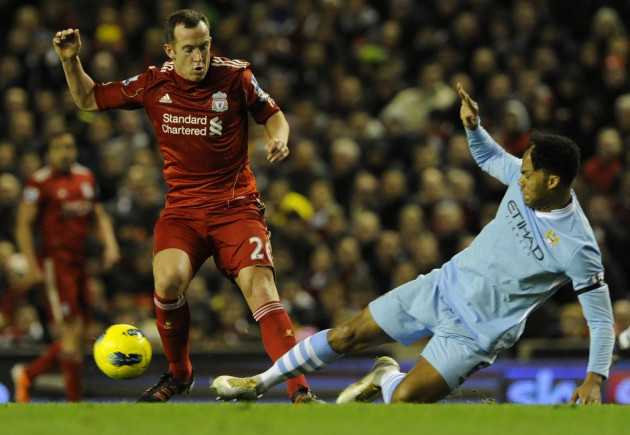 Liverpool legend Mark Lawrenson believes Sunday's 1-1 draw against Manchester City was the club's best display under Kenny Dalglish so far.
Joleon Lescott's own goal cancelled out Vincent Kompany's opener in a fraught encounter at Anfield.
Stewart Downing and Andy Carroll both had chances to win the game for Liverpool late in the second half but Roberto Mancini's side held on for a share of the points.
Former Liverpool defender turned BBC pundit Lawrenson paid tribute to the Reds' work-ethic and said they were unlucky not to claim all three points.
"I thought it was the best Liverpool have played under Kenny Dalglish and they deserved to win," he told the Liverpool Daily Post.
"They were much better than at Chelsea last week, and it shows that slowly but surely Liverpool are back on the up.
"The game also said to a lot of the Premier League that City are not invincible. Liverpool forced all sorts of mistakes with a high-pressure display, and but for Joe Hart would certainly have got more than a point."
Dalglish started with three of the club's summer signings - Jordan Henderson, Charlie Adam and Luis Enrique - and Lawrenson was impressed with the contribution of both midfielders.
"Charlie Adam did well again, and so too did Jordan Henderson. Right midfield is not his position but in the second half he did a lot better.
"He might be one where you see the best of him next season, given he's not had the spotlight on him in this way before and he's still only young."
The result extended Liverpool's unbeaten Premier League record to eight games and Lawrenson predicts the side will challenge for a top-four finish at the end of the season.
"Defensively, Liverpool were also impressive. Daniel Agger and Martin Skrtel were up against the three diddy men in David Silva, Sergio Aguero and Samir Nasri, and there's an art to defending against such smaller players when you are a strong, six-foot-plus centre-back," he added.
"Skrtel and Agger have been good for each other, and that there is no great rush to put Jamie Carragher back in indicates Liverpool are getting back to the old days where, if you are playing well enough, you stay in the team.
"I'm not saying Liverpool are definitely going to finish in the top four but they are improving. They have a very good spirit, and that can only help."