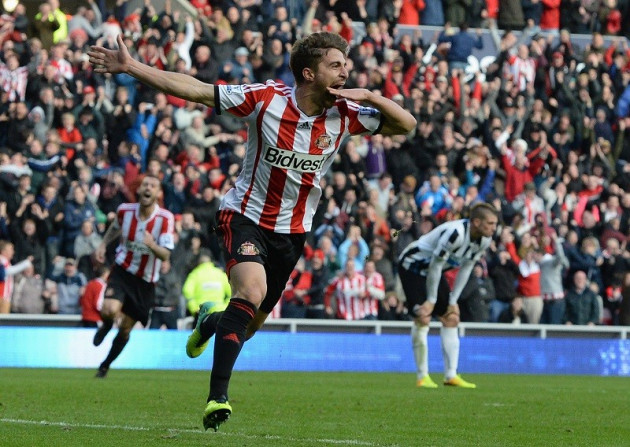 Fabio Borini will have been pleased to hear the latest comments from his manager Brendan Rodgers who made it clear that the on-loan Sunderland striker still have a future at Liverpool.
Borini fired a superb winner last weekend to hand Sunderland a morale boasting victory over Newcastle United as he looks to gain regular game time under new boss Gus Poyet.
The Italian will be desperate to prove his worth to Rodgers after a difficult debut season with Liverpool in which he scored just one goal, also coming against Newcastle.
Despite seemingly struggling with life in the Premier League, Rodgers is adamant that the 22-year-old can still be a success at Liverpool after gaining vital experience at the Stadium of Light.
"He's definitely got a future here [at Liverpool]," stated Rodgers during a press conference ahead of Liverpool's game against Arsenal this weekend.
"He's been unfortunate, really. He came in, but got injured early on. He was out for a period so it was difficult. He needed games and he's got the talent as we can see from that goal [against Newcastle].
"This year with us having limited games - only in the league - I've got young players who aren't playing as much. So, I need to plan forward and that means youngsters going out and getting games.
"That's obviously what he's gone to do [at Sunderland]. He's a talented young player and one who, we hope, will develop well over the next few years."
Borini cost Liverpool £10m when they signed him from Roma in the summer of 2012 but struggled to make an impact and found his opportunities severely limited when Daniel Sturridge arrived in the following January.
Sturridge has formed an impressive partnership with Luis Suarez but there is little in reserve for Rodgers with summer signing Iago Aspas struggling to find his feet in the Premier League.
When Borini returns to Anfield he will provide Rodgers with yet more depth and could well find himself playing in European competition as the club look to secure a top four finish this season.