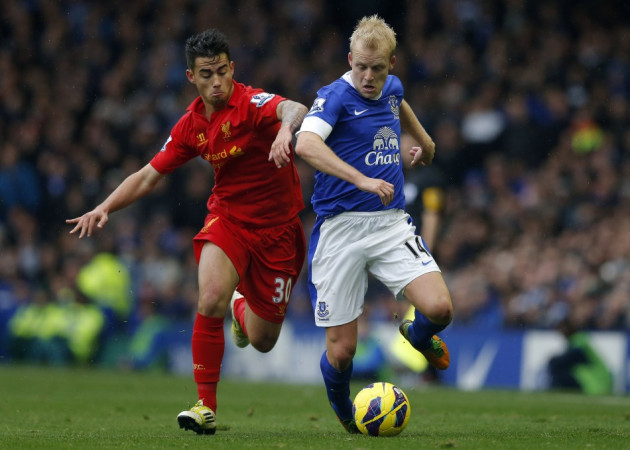 Liverpool have been handed a boost in their hopes of keeping midfielder Suso after the Spaniard declared his intention to remain on Merseyside.

Suso enjoyed his breakthrough season for the Reds in the 2012-13 campaign, graduating from the club's youth set up into the senior team as Brendan Rodgers experimented with his midfield options.
The Spain Under 21 international will no doubt be the subject of exit rumours this summer after he produced a series of impressive performances beyond his tender age of 19, but Suso insists he's happy to stay at Liverpool no matter who comes knocking for his signature.
"This year for me has been beyond fantastic," he told Marca. "At Liverpool this season has been great and I'm very happy.
"Next year I'll probably stay at Liverpool. I know there are quite a few offers but I will not go. I'm happy at Liverpool."
Brendan Rodgers will certainly be pleased that one of the youngsters he had faith in last season is committed to the club for the long-term.
While the manager is having to deal with continued comments from striker Luis Suarez saying he wants to leave the club, to hear from a younger player that there is potential to stay will give his plans for the future an extra boost.
Rodgers insisted this week that the club would be capable of qualifying for the 2014-15 Champions League if they have a successful summer, both in terms of keeping their best talent and bringing in players who can improve the cause.
"I'm not here to be comfortable and sit and earn the money and just enjoy being the Liverpool manager," he told reporters. "I think we can do but it will be a tough ask because as we improve other clubs will have masses more money to improve also.
"But I believe we have built a real good base this year. It's not my job to look for excuses, I have to find the solutions to try and push us in there and I believe we won't be too far away."
With youngsters such as Jordon Ibe, Adam Morgan and Conor Coady all looking to step up into the first team on a regular basis too, a good summer transfer window will give Rodgers a lot of choice as he tinkers with his starting line-up next season.