Liverpool fans will be revelling in two pieces of good transfer news this morning, with both Raheem Sterling and Luis Suarez looking likely to stay at the club amidst transfer rumours.
Yesterday speculation was claiming that Sterling would be used in a player plus cash deal for Theo Walcott in the January transfer window, while Suarez was believed to be fielding interest from Manchester City during the week as the title holders search for a replacement for wayward striker Mario Balotelli.
Rumours of Suarez's departure were since quashed by both the star himself and Brendan Rodgers, and Liverpool chairman Tom Werner also claims that there is not option for Suarez to leave in either the short or long term.
"We made a long-term contract with him in the summer and we are going to see a lot of his play at Liverpool," he said.
"He's a beautiful player to watch and as a Liverpool fan I hope I'm watching him for many years to come."
Suarez has become an integral member of the Liverpool squad, and without his goals or assists this season it would be a very different story for the side who are hoping to be title and Champions League challengers again in the coming years.
Werner added that the club would be boosting in numbers in January, rather than selling players, explaining: "Our intention is to strengthen but actions will speak louder than words. But that is certainly our intention.
"We know that January is a challenging time and I don't want to say we've got x or y but hopefully the fans will be pleased with what we do accomplish.
"Obviously we have made some mistakes in the past but our intention is to deliver our priority and strengthen the squad."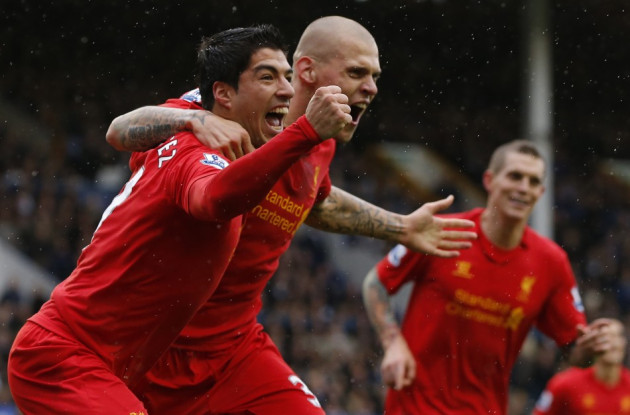 While for Suarez his career is now in its peak, Sterling is a very different story, and the youngster's breakthrough into the starting line-up this season has made Rodgers particularly protective over the budding winger.
Theo Walcott is believed to be a target for Liverpool, but Rodgers has been quick to quash any claims that Sterling might make a move to Arsenal in exchange for the England international, telling the Liverpool Echo: "They would be wasting their time. Raheem is in a real good place here," said Rodgers when asked about potential offers for Sterling.
"He has been given an opportunity here this season and he is thriving on it and enjoying the work. He will tie down himself to a new contract because he wants to be here and he can be a great here at this football club.
"We want him to continue to grow and others. And why would you want to leave one of the biggest clubs in world football? So it's a no brainer."
With both stars staying put, though the side are currently in a disappointing 11th place on the table, there is hope that the future looks bright for Liverpool, particularly after a confidence-building win over Wigan over the weekend.