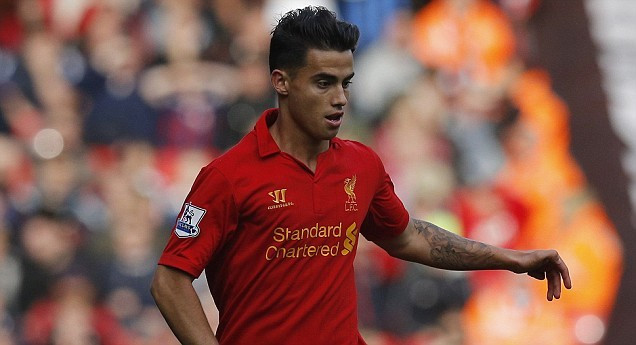 Suso says he and Raheem Sterling are both working hard to be as important to Liverpool as Steven Gerrard and Jamie Carragher, with the duo being handed a huge chance by Brendan Rodgers to step up to the first team this season.
Suso played his debut against Manchester United this season, with Rodgers trusting in the 18 year old to deal with such a high pressure match.
And since then, the Spaniard has been a big part of the manager's strategy, alongside Sterling, who is believed to be close to his first mention for the England senior squad after his performances for the Reds this season.
Suso's handling of his rise to fame has been heralded as very mature by Rodgers, and the playmaker says he has big plans for the long-term future with Liverpool.
"My first thought was: 'Oh my God,'" Suso told the Daily Telegraph, via Goal.com, when asked about his debut.
"We were a man down because of Jonjo [Shelvey's] red card and I couldn't believe he was picking me to play the second half against Manchester United and not one of the others like [Nuri] Sahin, [Stewart] Downing or [Jordan] Henderson.
"Since then I have started every game in the Premier League. It has been a big change in a short time. Last year I had no expectation to play for the first team but, when Brendan arrived, the first thing he said was how much he liked the young players."
Suso's relationship with Sterling has helped the duo learn and improve together, and he hoped that they would be able to be legends at Liverpool in the future as Rodgers continues to support their development.
"Raheem and I can give each other support and confidence," he explained. "Our wish is to be like [Steven] Gerrard and [Jamie] Carragher, to be able to play as many games and be a top player for so long. Playing with Gerrard and [Luis] Suarez is something I will treasure forever.
"In Spain, it is not normal for someone who is only 18 to play for the first team for a club the size of Liverpool. It never happens.
"But Brendan is one of the best people I have ever met and there is no time when he is not talking to you, when he is not trying to help. You do not get the chance to play for Liverpool every day, so I knew I had to take it."
Liverpool have made great use of their younger players, with Andre Wisdom also touted for big things as he gets a chance in the first team.
As Rodgers is presented with limited options, the more inexperienced stars are being offered chances they may not normally get for any other club of Liverpool's size, and Suso is one player who is taking full advantage of that.