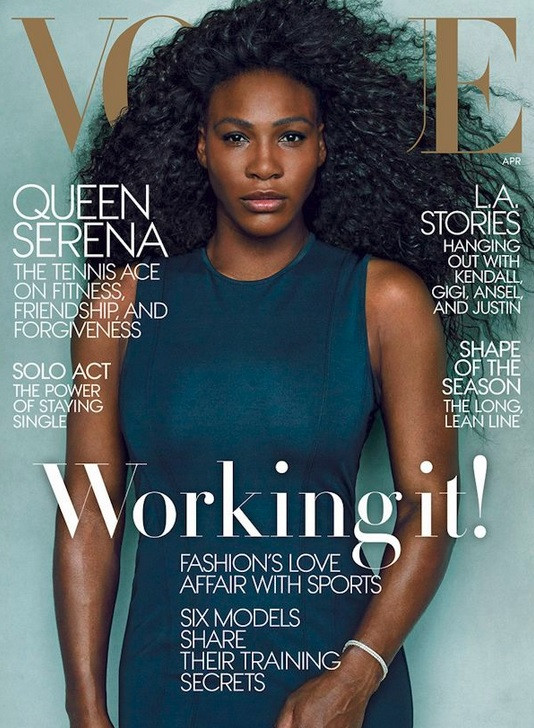 She has multiple Grand Slams, Wimbledon and US Open wins under her belt, but tennis champion Serena Williams has admitted that being at the top is "lonely".
Gracing the cover of the April issue of Vogue Magazine, the 33-year-old star revealed that she is a totally different person to the one everyone sees on the court.
"On the court, I am fierce! I am mean and I am tough. I am completely opposite off the court. My confidence just isn't the same. I wish I was more like I am on the court. Nobody would know that I am constantly crying or complaining," she told Vogue.
This is Williams' first solo vogue cover, having previously featured alongside Hope Solo and Ryan Lochte in 2012. Her latest headline boldly reads "Queen Serena, the Tennis Ace on Fitness, Friendship and Forgiveness" and the sportswoman looks stunning and fierce in a sleeveless blue dress as a wind machine blows her curly tresses.
Touching on her friendship with Caroline Wozniacki, Williams insists that their tennis rivalry is just one of the many reasons that they bonded.
"It's hard and lonely at the top," Williams observes. "That's why it's so fun to have Caroline and my sister, too. You're a target when you're number one. Everyone wants to beat you. Everyone talks behind your back, and you get a lot more criticism. God forbid I lose. It's like 'Why?' Well, I am human."
Ahead of the issue's official unveiling, Williams teased her cover by sharing a snap of herself, lounging in the sun, bikini-clad, while reading the mag on her Instagram account.
The Vogue feature coincides with the Michigan native's decision to exit the Indian Wells tournament due to a knee injury. Earlier in March, she ended a 14-year boycott of the BNP Paribas Open which had been triggered by alleged racist abuse she and family suffered at the showpiece event in 2001.
"The whole point of me coming back was not to necessarily focus on what happened 14 years ago," the world number one told a packed news conference at the Indian Wells Tennis Garden.
"It was more or less to focus on how I felt, if it was the right opportunity for me to come back now and for me to be at this tournament. I just felt like it was time."
"There's not one thing that says I should come back, that I should come back in 2015. I just felt like it was the right time for me to come back here and try to do the best that I could."