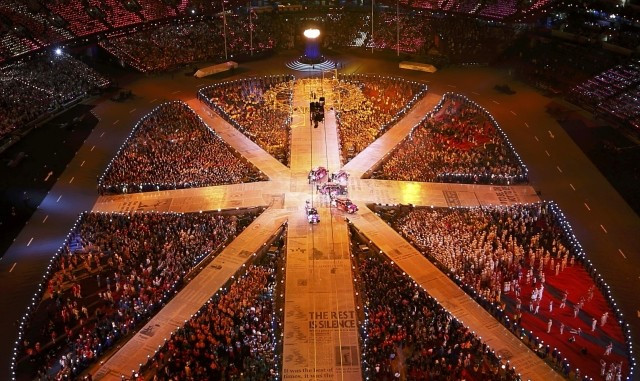 Twenty-eight pence spent in every pound on Britain's National Lottery goes directly to "good causes" as determined and administered by the Government's Department for Culture, Media and Sport. The share given to Sport is currently 18 per cent of that "good cause" figure and so just over five pence in every pound is allotted directly to this sector. During the past fortnight at the London's 2012 Olympics, sportsmen, women and commentators have not failed to emphasize the importance that this source of funding has had on their varied sporting pursuits in enabling them to achieve their current level of competence.
The contribution and transformation of British sport since the National Lottery's inauguration back in 1994 in such matters as professional training and management; the building of top-class facilities throughout the country, not just at the very fine Olympic Village in London we have all been viewing; and the making accessible of different sports throughout the country, even those felt to be out of the reach of less well-off people, is difficult to quantify. However, all that effort has paid off it would appear with London staging a most successful Olympic Games, whilst not forgetting venues such as Glasgow (Soccer matches) and Weymouth (Sailing).
During the 1992 Olympics in Barcelona, Great Britain was ranked 13th in the Medal Table with five Golds and winning 20 Medals in total. Atlanta in 1996 for the UK was all about "It's the taking part that counts.", as the country achieved but one Gold - Matthew Pinsent and Steve Redgrave in the Rowing, Mens' Coxless Pairs - a haul of 15 Medals in total and No 36 in the Medals Table.
On 12 August, the closing day of the 2012 London Olympics, Anthony Joshua won Great Britain's 29th Gold Medal, winning the Boxing, Super-Heavyweight final. Mr Joshua had not even started boxing four years ago as the Beijing Olympics finished so to win Gold against the very experienced Roberto Cammarelle of Italy - though not without the Italians lodging an appeal - must be testament to sport's generally greater promotion and standing in British society over those past 20 years, when, it is fair to say, the Olympics were viewed by many as elitist.
The very last Medal won by Team GB and the last Award Ceremony of the Games, was a Silver won by Samantha Murray in the Women's Modern Pentathlon. It all rounded off Britain's most successful Olympics where 29 Gold, 17 Silver and 19 Bronze Medals were won totalling 65 Medals altogether. This placed Great Britain 3rd in the Medal Table on a Gold Medal score basis or 4th after Russia on an overall Medal total. Russia won 24 Gold and bagged a haul of 82 Medals.
Once again, the United States came top of the Medal league with 104 Medals, 46 of which were Gold. This topped the 2008 Table winner, China. China's second place earned it 38 Gold Medals with 87 altogether.
With a couple of exceptions, the London 2012 Olympics have been judged, both here in the UK and internationally, a great success. One of the simpler and nicer appraisals was one mentioned in a BBC News item on 13 August from the Israeli newspaper Ma'ariv:
"The London 2012 Games have been all that an Olympics can be. A celebration of all that is good, beautiful, uniting and gladdening."
And Greg Baum in the Sydney Morning Herald on the same day gave fulsome praise to the organisers, athletes and crowds whilst finding the Games location "...in one of Britain's poorest boroughs, proved inspired...Some Olympic sites become wasteland after the Games. This one began as wasteland and is now full of possibilities."
Mr Baum, went on to outline the security shortfall prior to the Games made good by the Army and said that they "proved to be Britain's finest ambassadors."
London 2012 is not of course over for there's still the London 2012 Paralympics Games which will take place from 29 August until 09 September 2012 and although Opening and Closing Ceremonies will not be on the same scale, there's every indication that these Games will enjoy more support than ever. Just what the country needs, keep those gems coming!