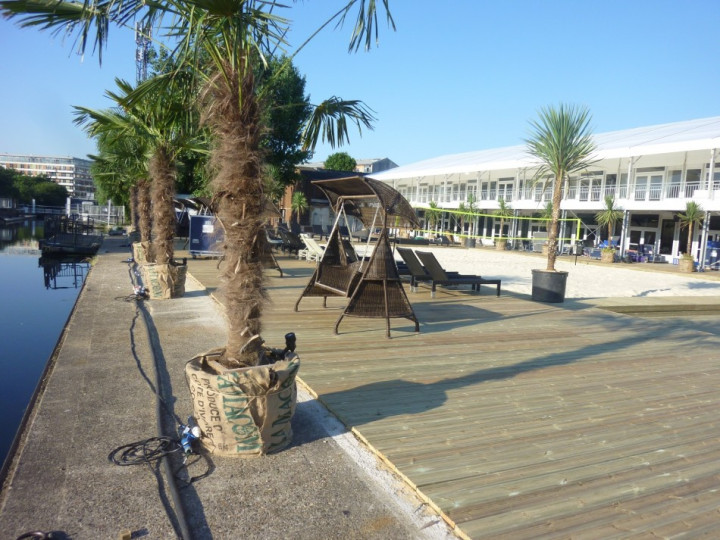 For over a hundred years Forman's has been smoking salmon in the rough and tumble East End of London.
This family-run small business lays claim to being the oldest salmon smokehouse in the world and is popular among famous chefs. It even featured on the BBC's flagship cooking competition Masterchef.
Despite its culinary prestige, you might not expect such a business to be able to cash in much on the London 2012 Olympic Games - but Forman's has risen, perhaps like a salmon, to the challenge.
Forman's is based almost in touching distance of the Olympic Stadium within the Olympic Park, which will be drawing hundreds of thousands in each day for the many events taking place in the Stratford hub of the Games.
"We just thought you know what, we are 100 metres from the stadium, we are never going to be in a situation where we are 100 metres from the world's biggest event, and if that is not the right time to take a gamble, when is?" Lance Forman, managing director and forth generation owner of Forman's, told IBTimes UK.
And gamble they have. In a deviation from their core business of salmon smoking, Forman's has created a luxury retreat called Fish Island Riviera right beside the Olympic Stadium.
"We have brought the Riviera to the east end of London," Forman said, proudly.
"All those people who said 'I'm not going to the Olympics, I'm going on holiday' - we are saying no, come to the Olympics, but we will bring the holiday to you.
"Over the last few years we have heard people saying everyone is going to go back to the west end and partying in Kensington and Chelsea.
"We're saying hang on a second, the Olympics is about regenerating the east end of London. This is where you should be partying. This is where you should be spending your money, otherwise how is it going to help the east end of London to regenerate?"
Big screens and beach volleyball
Forman gleefully boasts about what his Riviera offers those coming to London 2012.
It has a pop-up beach bar run by the exclusive Maddox Club based in Mayfair. Royal caterers The Admirable Crichton is on hand to feed diners, as well as a smoked salmon, champagne and caviar bar.
"In the Olympic Park you have got the world's biggest McDonald's. What sort of food legacy is that?" Forman said.
"We are giving people the best of British food, award-winning English wine, it's going to be spectacular."
The Games can be watched on a seven-metre wide screen and, given the proximity of the Riviera to the park, Forman claims "you'll hear the roar of the crowds and you can watch it on the screens".
He has also brought in 40 palm trees from Italy, as well as 250 tonnes of sand to create a beach volleyball court for those who feel inspired enough to give some sport a go themselves. There are even showers available for when you're done.
Hospitality suites are available for hire and there is a sunseeker yacht moored on the River Lea.
"We also have the latest licence anywhere around the Olympic Park," Forman brags.
"Our licence is until four o'clock in the morning and we have got Ronnie Scott's down here every night, so people can come along, if they want a day that goes on-and-on, they can come here and get late night jazz."
Locog 'to blame' for missed business opportunity
The government and business groups have been urging firms to make the most of London 2012, which officials say could be worth £13bn to the UK economy in the long-term.
For some, such as those who rely on the city's Olympic lane-disrupted roads, it is simply not possible to get a boost from the Games.
However there are those who could have taken advantage of London hosting the Games, but have not - and Forman blames Locog for any lost opportunity.
Locog has been aggressively protecting the London 2012 brand on behalf of the corporate sponsors who have paid around £2bn in total to be associated with the Olympics.
So forceful has the brand protection been, that even an woman in her eighties who had knitted a tiny Olympic Rings logo on toy dolls to sell for a pound in a fund-raising drive for her church felt Locog's copyright rapture.
"Locog have been hopeless. We have spoken to businesses and said why don't you take a hospitality suite and you can entertain people at the Olympics, and they have said 'well we're not allowed to entertain people at the Olympics, are we?'" Forman said.
"Everything they have heard from Locog is you can't do this, you can't do that, you can't do the other.
"There is no-one telling them what you can do and how to take advantage of it. So businesses have just got scared off.
"It's pathetic, because yes of course you have got to protect sponsors if they have paid £50m to sponsor, but this is not just about the sponsors.
"The rest of the country has paid 90 percent of it. The sponsors have only paid 10 percent."
He added: "It is a showcase opportunity for London and the rest of Britain. The whole world is going to be focused on us, and if we don't seize this moment it will just slip away. It would be such a tragic waste."
London 2012 athletes drop by
Athletes past and present have already been to sun themselves in the late July heat at the Fish Island Riviera, including names such as gold-medal winners Daley Thompson and Michael Phelps.
America's swimming team has also popped in.
Now Forman is hoping the efforts of him and his team pay off during London 2012.
"If you're familiar with poker terminology, we have got the nuts, gone all in, and it's all on the river," he said.
"Or rather, the Riviera."