2012 London Olympics: Federer Wants to Face Murray or Djokovic for Gold
Wawrinka will be Switzerland's flag bearer at the opening ceremony on Friday after Federer rejected the offer to carry the flag for a third time.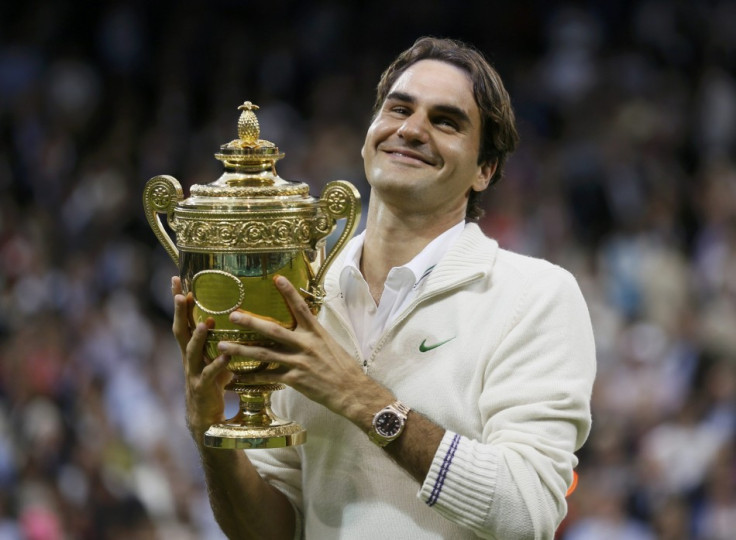 The top men's tennis professional in the world, Roger Federer, said he was looking forward to the challenge of being the favourite for the tennis gold at the 2012 London Olympic Games. The Swiss ace took the Wimbledon crown earlier this month and returns to the grass courts of SW19 for the Olympics' tennis events. He will be joined in the fray by Serbian international Novak Djokovic and British number one Andy Murray, both of whom he beat to win his seventh Wimbledon crown. Unfortunately, Spanish champion Rafael Nadal was forced to withdraw, due to injury problems. Federer added he was also looking forward to facing one of either Djokovic or Murray in the final.
"Novak has a good chance but so does Andy Murray after the Wimbledon he had. I'm not looking too far ahead and I hope to face one of them in the final. I do believe winning Wimbledon will help with my confidence, it's been a great couple of weeks, and I don't mind being the favourite because that is when I play better," Yahoo quoted the 31 year old as saying.
Federer's best ever individual performance at the Olympics was at the 2000 Sydney Games, when he reached the semi finals. He does have a gold medal though - he partnered Stanislas Wawrinka to win the doubles event at the 2008 Beijing Games.
Meanwhile, Wawrinka will be Switzerland's flag-bearer at the opening ceremony on Friday, after Federer, in a wonderful gesture, rejected the offer to carry the flag for a third time - he said he wanted someone else to experience the honour. Federer carried the Swiss flag for the 2004 Athens and 2008 Beijing Games.
"Carrying the flag for me was something I never expected. It was a huge honour in my life to be able to represent Switzerland like that. I've done it twice and it would have been amazing to do it a third time but I just felt it was important to give someone else a chance. In Switzerland we believe that," Sky Sports quoted Federer as saying.
"I told the Swiss Olympic Committee that they should choose someone else and they chose my partner, Stan Wawrinka. It's a great, great honour for him. I couldn't have won the gold without him, everybody knows that. I think they chose the right guy," he added.
Incidentally, Wawrinka faces Murray in his first round fixture for the singles event, while Federer will meet Colombian Alejandro Falla, in a rematch of their 2010 Wimbledon first round epic where the Swiss came back to win from two sets down.
© Copyright IBTimes 2023. All rights reserved.