2012 London Olympics: Britain Gymnastics Team Reach Final after 88 Years
Team GB finished third behind the United States and Russia.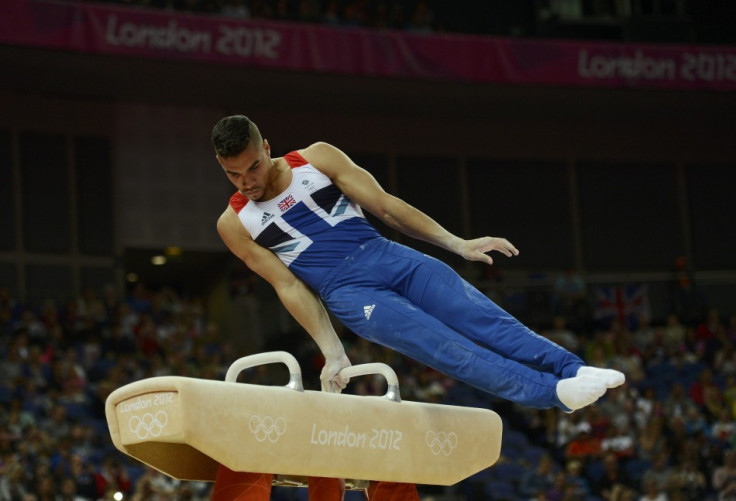 Team Great Britain's men's gymnastics team swept into the final of the team event for the first time in 88 years, putting on a stunning performance at the North Greenwich Arena. The team, consisting of Louis Smith, Kristian Thomas, Dan Purvis, Max Whitlock and Sam Oldham, excelled to head their heat and finish ahead of world champions China, with an impressive score of 272.420. The final qualification position was third, behind the United States (275.342) and Russia (272.595). The other qualifiers for Monday's final are Germany, China, Japan, Ukraine and France.
The team rankings were a total of six individual events - Floor, Pommel Horse, Rings, Vault, Parallel Bars and Horizontal Bar - and the British gymnasts recorded top ten finishes in three of the six categories, with Smith winning the Pommel Horse qualification round, with a score of 15.800, to also secure a place in the individual final. The 23 year old won bronze in the same discipline at the 2008 Beijing games and admitted that performance put extra pressure on him to make the final in London.
"We all have smiles on our faces - it's monstrous. That was an unbelievable... It's been an emotional four years. There's been a lot of pressure since Beijing to perform at this Olympics. There was a lot riding on it. I couldn't help thinking about the future - providing for my family, the expectation," BBC quoted Smith as saying.
"I said 'Come on' to myself twice in my pommel horse routine, and I've never done that before. It's hard to explain what I felt when I landed that routine. It came close in Beijing, but this time - I've never experienced anything like it in my life. It was the best feeling in the world," he added.
However, Smith is not the only member of the team to book his place in an individual final; Team GB secured five places. The performances of Thomas and Purvis saw them secure fifth and 10th respectively, to move into the all-around individual final. Thomas will also compete in the vault final, after finishing fifth overall with a score of 15.983.
Whitlock will compete against Smith in the Pommel Horse final after qualifying in the final available place with 14.900. They will meet double world Pommel Horse champion Krisztian Berki of Hungary, while Croatian Filip Ude, who won silver four years ago, did not make the last eight.
© Copyright IBTimes 2023. All rights reserved.