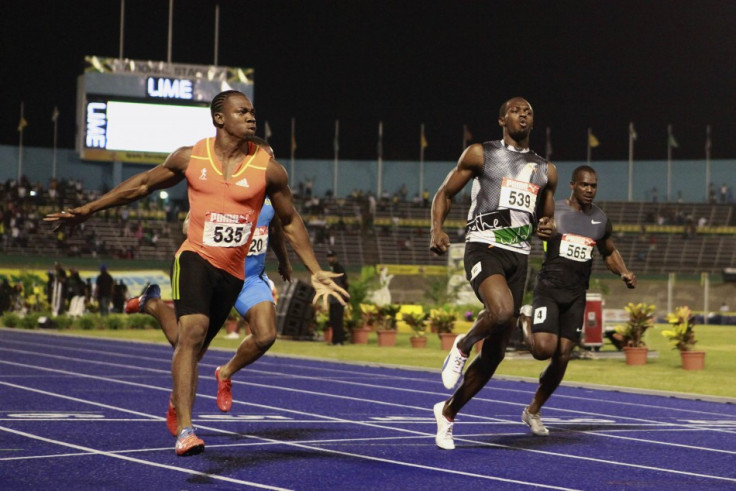 Jamaican sprinter Usain Bolt has confirmed his fitness concerns are over and he is ready to go, ahead of next week's preliminaries for the London 2012 Olympics. The 100m and 200m champion of the Beijing 2008 Olympics and the world record holder was a slight doubt for the London Games due to a back injury but the athlete now claims he is fully recovered and prepared to defend his Olympic medals.
"I had slight problems but nothing too serious. I got that fixed. I came to camp today and I felt that vibe. I'm always ready. I keep telling you guys it's all about the championship. It's all about one run, it's not about the trials. It's all about defending my titles. My back was a little bit stiff and it caused a problem in my hamstrings. But we figured out what the problem was. My training has been great in the last two and a half weeks," the Guardian quoted Bolt as saying. Bolt's statement was backed up by the Jamaican team doctor, Winston Dawes.
"He's back fully. He has been training very, very hard and his performance is on track. We expect he'll be fully fit by the time the Olympics come around. He had some slight cramps [in his legs]. He had had an accident before, so that might have shaken him up a little," the BBC quoted Dawes as saying.
Bolt's biggest threat is his compatriot Yohan Blake. The 22 year old is the reigning 100m world champion and beat Bolt, in both the 100m and the 200m, during the Jamaican trials earlier this month. Blake also ran the 100m in 9.85s, in Switzerland, to win another sprint. Dawes feels the Olympics could well see something spectacular as the two Jamaicans face off.
"Both of them are at the top of their game. They are 100% fit and 100% raring to go. They are mentally fit and they are going to be going all out. If the conditions are ideal, then we are going to see something fantastic. We may see records go," the doctor added.
Bolt also revealed he was honoured to be chosen to carry the Jamaican national flag during the opening ceremony. The 25 year old will lead his nation out in to the stadium for Friday night's opening festivities, which will mark the start of the Games.
"For me, carrying the flag is an honour. I love Jamaica, I couldn't live anywhere else. To be on TV, to be singled out at the opening ceremony, is kind of great. I'm looking forward to it," he pointed out.
The preliminaries for the 100m begin on 4 August.