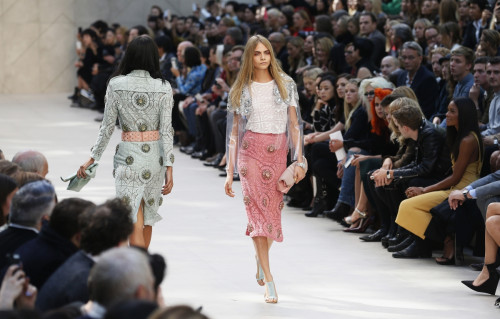 Let the fashion madness begin, divas, because London Fashion Week is almost here.
From 14-18 February some of the world's biggest names will be taking over Somerset House and other lush venues in the capital for the five-day extravaganza.
Designers including Burberry, Tom Ford and Issa are to showcase their latest awe-inspiring collections and you can be certain that celebrities, fashionistas, bloggers, journos and buyers will be on hand for the big reveal.
But while attendees might be looking forward to the back-to-back catwalk shows, front row celebs and impressive after-parties, wardrobe malfunctions, awkward encounters and dead batteries can potentially ruin the experience.
To help you get through the five days without any major disasters, IBTimes UK has put together a fool-proof London Fashion Week survival guide.
You can thank us later.
Do's
Look the Part
You are attending a runway show so it's just common courtesy to make an effort. To save time make sure to prepare that killer outfit the night before to avoid arriving late to any early-morning shows. A pair of backup flat shoes is essential if you are attending multiple shows. Limping in heels during Fashion Week is strictly forbidden.
Take battery-operated camera or phone charger
Nothing is worse at Fashion Week than a dead battery in your camera or mobile phone. Make sure you don't miss out on the opportunity to capture and share your experience on social media by packing a battery-powered charger. You would be doing your followers a grave injustice if you came back empty-handed.
Stay Hydrated
Remember: Water is your friend. With all the shows you will be trudging to, staying rehydrated is vital. If you forget to pack water, most designers usually offer a free bottle of H2o inside their goodie bags.
Be Prepared Always
Fashion Week is always buzzing with celebrities, so do your research and find out who's who. An encounter with a star could go south very quickly if you have no idea who they are. If you are attending catwalk shows, read up on the designers so you can offer an educated and honest opinion on their new collection if you are asked.
Don't
Overdo it
Don't feel the need to cake on your makeup or go overboard with your outfit. If you turn up in that PVC skirt that you wouldn't be seen dead in otherwise, people will think that you are having an identity crisis. Stay true to yourself and dress in what makes you comfortable. Remember nothing is more stylish than the confidence to be you.
No Fag Breath
Air kisses are expected in the world of fashion so make sure that you don't leave a bad impression. Stock up on gum or mints before you go to any show.