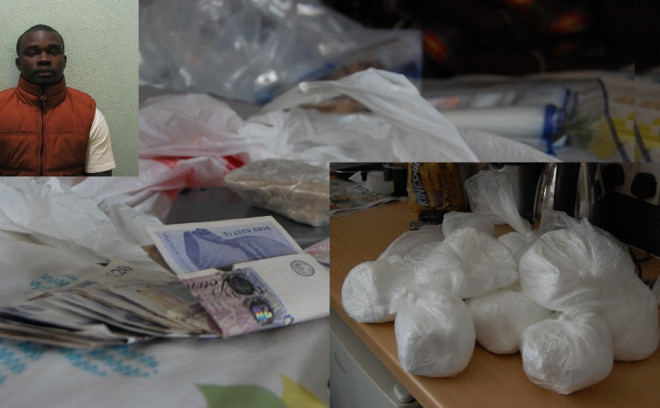 A London drug dealer has been jailed after police seized two kilograms of heroin and 250 grams of crack cocaine at his home.
Kwame Gyanfi was sentenced to seven and a half years at Croydon Crown Court after pleading guilty to possession with intent to supply class A drugs.
The Metropolitan Police Service raided the 31-year-old's Croydon home in August 2013 and caught Gyanfi with a black holdall bag containing approximately one kilogram of heroin.
Officers then discovered a further kilogram of heroin as well as approximately 250 grams of crack, a hydraulic press machine and 27.5kg of cutting agents.
Experts valued the street value of the drugs seized at approximately £150,000.
Gyanfi was arrested at the scene and was charged the following day with possession with intent to supply class A drugs and pleaded guilty to the offence at Croydon Crown Court in February.
Detective Constable Kieran Given, from Croydon CID, who carried out the investigation, said:
"Gyanfi's arrest and conviction was as a result of a well-planned operation and he was literally caught red-handed as we arrested him carrying a hold-all with a kilo of heroin inside.
"Drug dealers cause serious harm to our communities, and we will carry on targeting those involved in the supply of drugs in Croydon.
"This investigation came about from information we received from the local community and it shows that we can achieve real success in ridding neighbourhoods of drugs by working together."