Already top of the table for gold medals in athletics events at the London Olympics 2012, the American team added yet another gold to its collection as its women smashed the world record in the women's 4x100m relay race.
The relay races have recently been marred by fouls and issues with handovers. However, the US team - Tianna Madison, Allyson Felix, Bianca Knight and Carmelita Jeter - ran an impressively smooth race to stop the clock at 40.82s and break the 27-year-old world record of 41.37s held by East Germany and set in Canberra in 1985.
Meanwhile, the Jamaicans continued their strong showing in the track events with the women's team complementing Usain Bolt's double gold in the men's 100m and 200m events by claiming silver. Shelly-Ann Fraser-Pryce, Sherone Simpson, Veronica Campbell-Brown and Kerron Stewart finished the relay in 41.41s to beat the Ukrainian team of Olesya Povh, Hrystyna Stuy, Mariya Ryemyen and Elizaveta Bryzgina, who clocked a time of 42.04s. Nigeria were fourth.
The Americans got off to a strong start, with Madison and Felix leading from the start. Knight helped maintain that lead before Jeter stepped on the gas to smash the world record. The 32-year-old had already won silver and bronze medals in the women's 100m and 200m before going into this event.
"I knew that these girls were going to run their hearts out. I knew we were running fast. There was a cloud hanging over us with people saying, 'They can't do this, they're going to drop the stick', but we did it," BBC quoted Jeter as saying.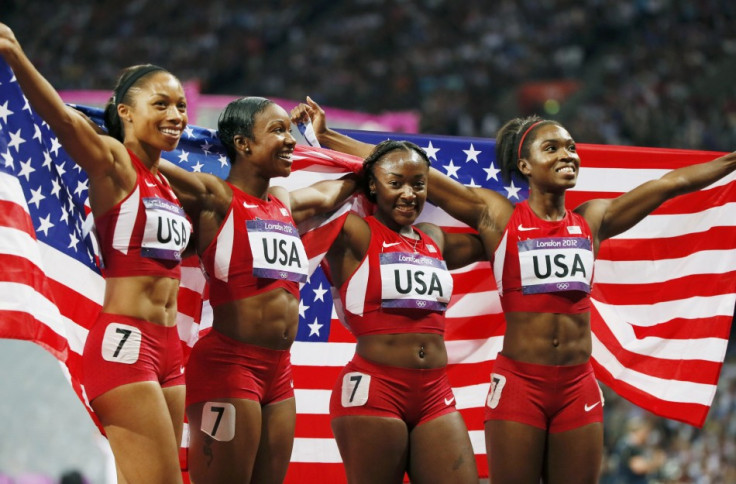 "I knew that we were moving, I knew we were running very well and I was so excited. It feels great. Everyone ran a credible leg and we were able to get the stick around, and we got the gold medal and the world record," said Jeter, according to a Yahoo news report.
Felix, who ran to gold in the women's 200m event, revealed that she and her team-mates were full of confidence before the race.
"It is a relief, it is a joy. it is everything. It is the most comfortable that I have seen this team. We were laughing, we were smiling ... we have never been like that. I think it was a combination of practice and we were comfortable with each other. Then just the speed," she explained.