All eight badminton players involved in yesterday's controversies have been banned from the London 2012 Olympics after a series of appeals over their elimination from the women's doubles attempting to "throw" matches were rejected by the Badminton World Federation.
The four pairs of players - two from South Korea, one from China and one from Indonesia - had already been charged with "not using one's best efforts to win a match" by the BWF and have now learnt that they will not be allowed to compete in London.
Appeals from South Korea and Indonesia were submitted earlier this afternoon, but after the latter withdrew their plea, the BWF ruled all offending teams were guilty of misconduct, with the teams who finished third in the round-robin stage; Russia, Australia, Canada and South Africa all benefitting as they were reinstated in the competition.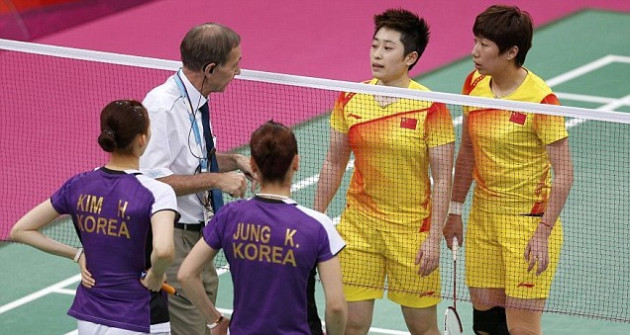 The Federation met on Wednesday morning to discuss the punishment but an announcement concerning the appeal results didn't follow until 40 minutes before the quarter final was due to begin at 5pm. Players will receive no further punishment.
A further complaint from the Indian team was submitted following Japan's defeat to Chinese Taipei, but was rejected by the BWF, who are set to review the introduction of the group phase, which has led to a number of meaningless matches during the back end of the stage.
Fans at Wembley voiced their frustrations on Tuesday evening when South Korea's Yu Wang and Wang Xiaoli faced China's Jung Kyung-eun and Kim Ha-na as both teams appeared to want to lose the match, the longest rally in the first game lasting just four shots.
The players themselves claim there was no such agenda on the cards and were simply conserving energy. The BBC quoted Yu as saying that since they'd already qualified and the knock-out rounds were on Thursday, 3 August, they felt it was unnecessary to "go out hard".
South Koreans Ha Jung-Eun and Kim Min-Jung and Meiliana Juahari and Polii Greysia of Indonesian were also disqualified from the tournament after they were also accused of "conducting oneself in a manner that is clearly abusive or detrimental to the sport".
Speaking before the hearing Korea's coach Sung Han-Kook told the BBC: "The Chinese started this. They did it first. It's a complicated thing with the draws. They didn't want to meet each other in the semi-final, they don't want that to happen. They (BWF) should do something about that."
However, the teams were criticised by men's single champion Lin Dan of China who spoke out against the actions of the doubles players.
"I think it will definitely bring a negative impact, because all of these fans came to watch this tournament," the 28-year-old told Reuters reporters at Wembley Arena. "This situation really is not in the Olympic sporting spirit."