It's been called by London mayor Boris Johnson "the last and greatest single prospect for regeneration in central London".
In one of the most ambitious plans for the capital, work has already begun on a 15-year project to transform 195 hectares of space stretching along the South Bank from Battersea to Vauxhall into a cluster of new apartments, business sites and leisure areas, a £15bn regeneration programme providing 18,000 new homes and 25,000 new jobs.
And at its heart, the redevelopment of the industrial cathedral that is Battersea Power Station, and the building of a new £650m US embassy in Nine Elms.
Improving Transport Links
This stretch of the South Bank has been practically ignored since the Industrial Revolution. Blighted by poor transport links, the area has lain dormant despite being just across the river from upscale Chelsea and less than a mile upstream from the Houses of Parliament.
"This was one of the major obstacles to development not happening in the past - the lack of accessibility," claims Helen Fisher, programme director of Nine Elms on the South Bank.
"So the biggest intervention is the Northern line extension, which is a two-station extension from Kennington. That's £1bn worth of infrastructure coming in to the area."
The tube extension, with new stops at Nine Elms and Battersea, is being funded by a loan from the government. Other plans include the riverboat service being extended to a new pier at Battersea Power Station, and a cycling initiative.
New US Embassy
The major catalyst for the area's regeneration came when the US government announced in 2008 plans to move its embassy in Mayfair to a new building in Nine Elms.
"The US has outgrown its embassy. The current embassy doesn't meet all the new security standards embassies need to meet," said Lydia Muniz, director of the US Department of State Bureau of Overseas Buildings Operations.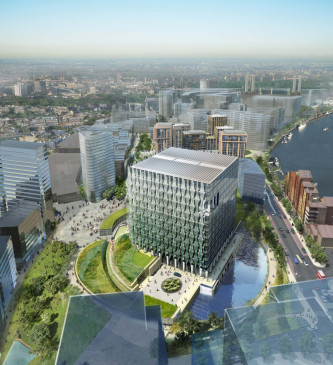 "The constraints on the existing site, the need for more space, led us to a different solution and this [the embassy in Nine Elms] is that solution," she added.
A residential complex, Embassy Gardens, is being built by Ballymore around the site. Richard Oakes, UK sales and marketing director at Ballymore, said that Nine Elms was set to become a new diplomatic quarter on the South Bank.
"The Americans are moving here; we've now got the Dutch embassy moving on to site as well. You're effectively bringing Grosvenor Square and Berkeley Square to Nine Elms," he said.
Affordable Homes
Twenty-eight separate developments are under way within the so-called opportunity area, from the New York-style tenements of Embassy Gardens to the shimmering modern Riverlight buildings. A mishmash of brick, glass and steel, it will all be tied together by the Linear Park, a continuous green corridor that will run like a green ribbon from Battersea down to Vauxhall.
These luxury apartments will certainly appeal to foreign investors, but Richard Oakes was keen to stress that Embassy Gardens properties were being snapped up by many Londoners as well.
"This is central London, so the prices are going to be at a certain [level] - anything from a quarter of a million upwards when we first launched. But the reality is that Londoners are buying here," he said.
Cllr Ravi Govindia, leader of Wandsworth council, was more forthright in his views.
"When it comes to international investors I say very, very plainly: One cannot say London is a world class city and then say foreigners keep out," he said.
Govindia, along with his Lambeth counterpart Cllr Lib Peck, has played a crucial role in attracting foreign investment to the Nine Elms area. He promised that this new housing would see affordable homes for locals provided.
"We will produce in this part of the borough 2,500 affordable homes. It will be homes for Wandsworth people, homes for Londoners as well," he said.
New Jobs
The redevelopment work also promises 25,000 new jobs, as well as regenerating the most recognised establishment in the area, New Covent Garden Market. The largest fruit, vegetable and flower market in the UK, it supplies 40% of all food eaten on a plate in London outside the home. Now it's set to be transformed as part of the Nine Elms plan.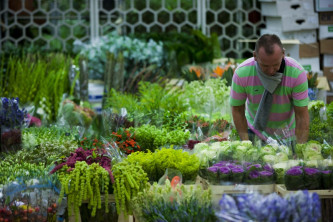 "The main opportunity we've got is to build a new market for the 21st century by consolidating the flower market with the fruit and vegetable market south of the railway line, and that will enable us to open up the area that's closed to the public and create new residential accommodation, shops, offices," says Pam Alexander, chair of Covent Garden Market Authority.
"The most exciting part is a new garden heart which will hopefully encourage new entrepreneurs involved in the food business, involved in restaurants, hospitality, tourism. It's going to be a new focus for people in this area, and for visitors to London," she adds.
Vibrant Cultural Hub
Nine Elms is looking to become the generator not just of new homes and jobs but also culture. Art events on London's South Bank are extending westwards, spearheaded by the Damien Hirst gallery set to open down the length of Newport Street in Vauxhall later this year.
"We already have a lot of existing artists, studios, galleries, and so we're starting to talk about a Vauxhall gallery district, and obviously that links very much with the sort of things that are happening down in the Nine Elms development area with a cultural offer," says Giles Semper, executive director of Vauxhall One, a collective of Vauxhall-based businesses.
As well as providing gallery space for recognised artists, the Nine Elms project also hopes to encourage young aspiring artists in the area. The St James Group has provided the nearby Royal College of Art with a five-year rent-free studio space at the base of the Riverlight One development.
"St James has always had a strong interest in cultural place-making," says Sean Ellis, chairman of the St James Group.
"It's part of the wider cultural strategy, which we believe very strongly in for Riverlight, and includes a series of pieces that we've commissioned by leading artists to create art pieces, sculptures, within the public realm," he adds.
Creating a Community
With such a rapid regeneration of Nine Elms comes the challenge of making sure the area's old industrial heritage is not swept aside. Organisers say that they're working hard to make sure that a harmonious community is formed between new tenants and current residents.
"A lot of the communities that have been in the Vauxhall area for a long time want to feel part of this development," says Lambeth council leader Peck.
"It's very important that this area doesn't feel like something alien to the rest of Lambeth but that it actually inspires, encourages, increases involvement from people who already live here."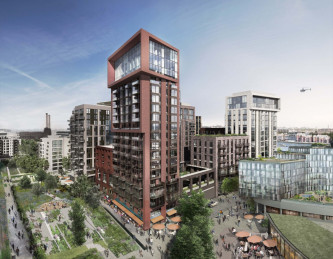 Part of the challenge is to make sure that Nine Elms becomes a place to live in as well as work in. Rachel Broughton, Senior Development Manager at local company CLS Holdings, says: "Both our schemes opens up the area.
"With the Spring Mews scheme we are creating a new mews which is going to link the area through to Vauxhall Pleasure Gardens. With the Vauxhall Square scheme it's covered by old warehouses - there's no permeability, you can't walk through it. So we're going to be opening that up and creating a new public square."
It's a wildly ambitious project, but as long as the area can incorporate these newbuilds with its industrial heritage, integrate locals with new tenants, and foster a thriving community on the South Bank as an in-demand place to live as well as work, Nine Elms could be one of London's greatest success stories.