Members of a Colombian drug cartel have been sentenced for smuggling more than 100 kilos of high quality cocaine worth £24m ($35.4m) into the UK, inside bananas.
Londoners Leonel Hernandez-Gonzalez, 37, Oscar Grisales-Cuervo, 45, and Daniel Valdes Jaramillo, 24, were yesterday (30 March) sentenced to a a total of 59 years in prison at Southwark Crown Court.
They were arrested in July last year when a haul of bananas from Colombia arrived at Dover port.
The consignment was then delivered by lorry, whose driver was not part of the criminal network, on 10 July to a unit at the Oast Park Trading Estate in Hartlip, Kent, before it was unloaded and locked up the warehouse.
But the warehouse was being kept under observation by detectives from the Special Projects Team, while their colleagues continued to monitor other members of the criminal network in London.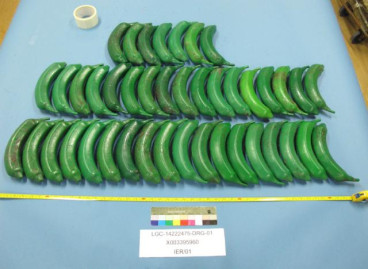 Later, Hernandez-Gonzalez, Grisales-Cuervo and Jaramillo met at an internet café in Stockwell, south London, where they are believed to have accessed emails instructing them what to do next.
The men were kept under surveillance and were arrested half an hour later as they left the café.
Police forced entry to the warehouse at 22:30hrs that evening and found 105kg of cocaine compressed and packed in plastic bananas, concealed within the fruit.
The recovered drugs have a wholesale value of £6.4m, with an estimated street value of around £24m.
Analysis of the cocaine found it to be of 98% purity. Officers also seized £290,000 of cash which was linked to Hernandez-Gonzalez.
Detective Inspector Paul Foreman from the Special Projects Team said: "The arrest and conviction of these individuals serves to show that the Metropolitan Police will not tolerate the distribution of Class A drugs which has such a harmful effect on London's communities.
"These individuals were part of a sophisticated, well-organised and determined criminal network capable of masterminding and resourcing this complicated international smuggling operation and sustaining it over a long period. The evidence shows that this unit has disrupted and dismantled what was a well-oiled, large scale operation."
Another suspect, Arzine Robert Okoli, 49, of Hathaway House Myrtle Street, London, was found not guilty of money laundering in connection with this case.