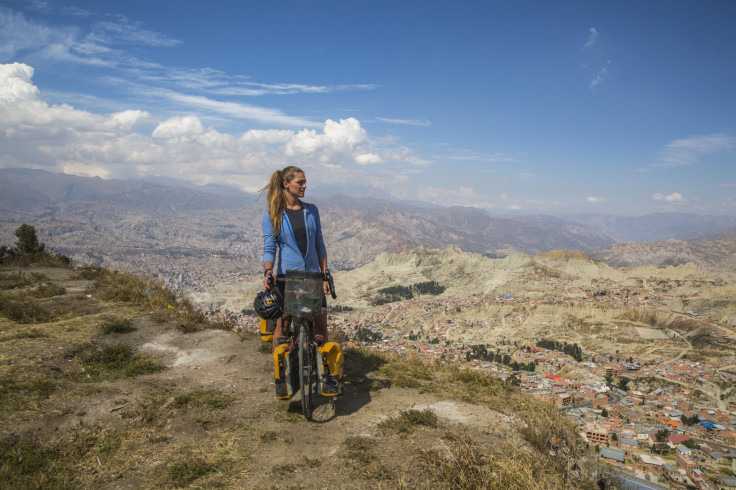 Whilst I was training for my cycle across South America with no money, the longest bike ride I had ever done was 100 miles over two days. That was the longest and only training I did as in all truth, I never liked cycling. Personally I never saw the joy or point in it so when it came to starting my 6,500km cycle, I had absolutely no idea what I was doing. In the last three months, I've cycled over 3,500km and I've learnt some extremely valuable lessons which I would like to share with you, to help anyone who is thinking about embarking on a cycling tour.
I wish someone had made me think about these essentials:
Weather
Plan your route so you don't travel during a cold and rainy season.
It may sound simple, but the rain sucks and it doesn't matter how tough you are, it's the mental aspect of it as being wet and cold will make you miserable. I have never been as low as when I was cycling in the freezing cold and rain through the Ecuadorian Andes and there aren't many houses, or friendly people for that matter. Finding shelter was pretty much impossible and so is trying to get warm and dry in a tent! Try to plan your journey around the seasons.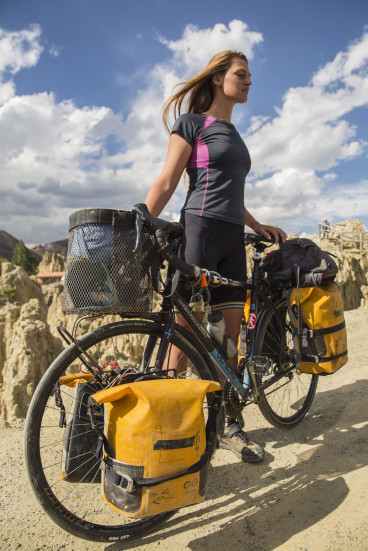 Panniers
Get panniers that tie on to your bike and are waterproof.
I have Thule panniers which I wouldn't recommend for touring. When I started, the clips kept falling off which meant the panniers would fall off and this is dangerous and can cause accidents. I would be riding up a hill or along a bumpy road and – there goes another pannier again! It got really frustrating and time consuming and I found myself having to reattach them three times a day. Now I've tied them up with string and so far so good... Also, pack light!
Laura recommends: Apidura £30 - £130
Gloves
I thought gloves were for keen cyclists who just wanted to look the part or were worried about getting dirty hands. It turns out that's not true, gloves are gold dust. Secondary to sore legs is sore hands and the day I lost my Gore bike gloves with gel pads, I cried. Gloves are super important as your hands take on a lot of pressure whilst cycling. People tend to think it's all about the legs but your hands are holding your upper body weight for around 6-8 hours a day!
Laura recommends: Gore Unisex UNIVERSAL WINDSTOPPER® Mid Gloves; £49.99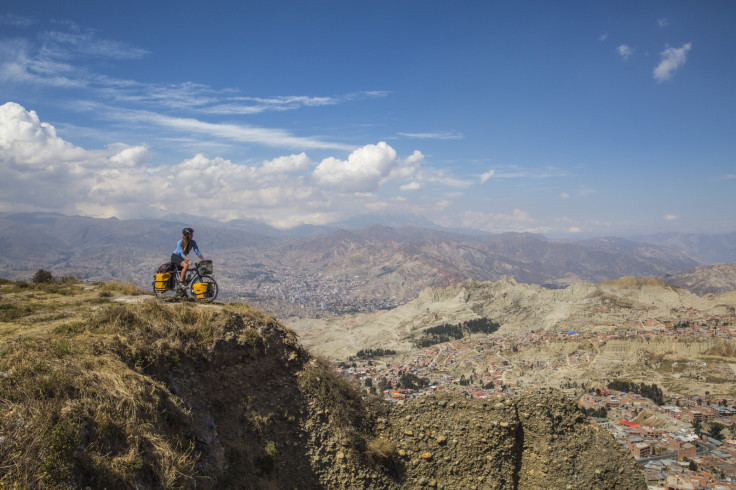 Your saddle and shorts for bum comfort
There's no need for you to test out different saddles before your trip, just get the biggest, fattest, softest saddle you can find. You can also get one that moulds to the shape of your bum. Just like gloves, padded shorts aren't just for keen cyclists either, they help. I use these. The combination between a supportive saddle and a padded pair of shorts makes for a happy bottom.
Laura recommends: Madison L300 Women's saddle, suspension gel, black; £34.99
Buy a couple of cycling tops
I've read a lot about people saying you don't need to purchase expensive cycling clothes but I say they are made for a reason, a good reason. They support you and look after your body as well as being extremely ideal and help with any unfortunate tan lines.
Laura recommends: Gore Element Lady singlet; £54.99
Wear a helmet
Please. Two of my cycling companions along my journey have been involved in a car accident, it happens. I have met so many cyclists who don't wear them but really it just takes one car or one truck to hit you and a helmet could be the difference between life and death. Just look at James Cracknell if you need confirmation – enough said.
Laura recommends: Lazer Z1 helmet with MIPS (an industry leading safety technology); £219.99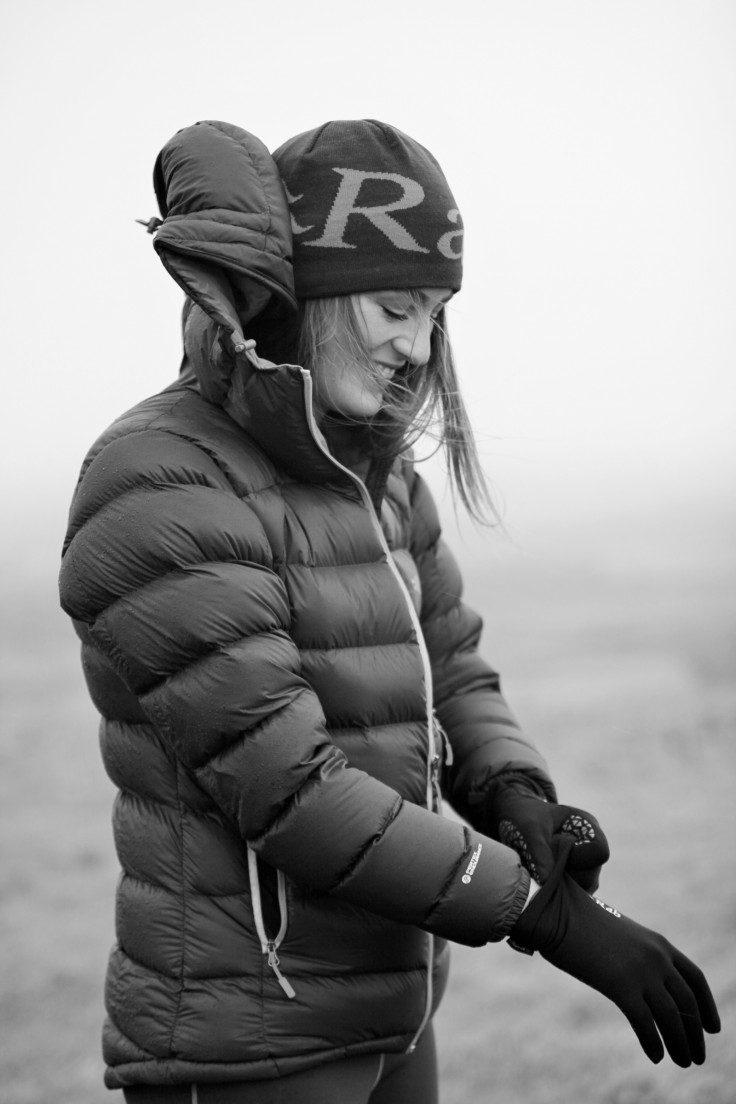 Down jackets
I love my down jacket. It's a two-in-one that keeps me warm when it's chilly and is a comfortable pillow for my head for when I sleep. It's so convenient and packs up in to a tiny bag which takes up no space at all. I seriously wouldn't leave for a camping trip without it and it is the difference between a good night's sleep and a bad one. It has also kept me toasty at 5,000m altitude in the Andes.
Laura recommends: Rab Womens Microlight Alpine Jacket; £180
Ear protection
Thankfully Gore suggested these to me and I'm so glad I listened. If my ears get wet or are exposed to a lot of wind, I get quite a few problems and these headbands have saved me from potential infections numerous times over the past three months. There have been some incredibly windy days and this little band just shuts it out, I would not leave the house without it.
Laura recommends: Gore unisex UNIVERSAL WINDSTOPPER® Soft Shell Headband; £19.99
Have a handle bar pannier
I've ended up making a basket from an old road side car part, it's random but unfortunately as I have no money to travel with I can't just buy one from a shop. But this thing is so handy and I seriously wish I'd have got a handle bar pannier before I started. I keep all my essentials I need to hand in it like food, my jumper and my camera so it's quick and easy to grab. I would highly recommend having a basket or bag that sits on the front of your bike for convenience.
Laura recommends: Andura handlepack; £80
So that's it. I hope you find these useful, I really wish I'd have known these things before I set out on my cycle across South America. If you decide to do something as crazy as me and do it with no money, you will no doubt learn your own little unique ways of doing things.
Good luck to you, fellow thrill seeker.
You can track Laura's journey on her website http://www.laurabingham.org/ and keep up to date on her Twitter and Instagram - @LauraBingham93