The Apprentice returns with series 12 on Thursday 6 October and it isn't short of cocky characters, cracking one-liners and interesting tasks. Above all, Lord Sugar and his helpers Karen Brady and Claude Littner will be back as the stone-faced trio that aren't afraid of seeming almighty about the world of business.
But is Sir Alan Sugar as powerful as the television show may suggest? A certain US presidential candidate doesn't think so.... IBTimes UK attended the press launch and found Lord Sugar wasn't afraid of voicing his opinions on topics such as Donald Trump, former Apprentice contestant Katie Hopkins and Brexit.
Following a screening of the drama-filled first episode, the Q&A saw Lord Sugar expressed his views on US presidential candidate Trump, who featured on the American version of The Apprentice from 2004-15.
Back in May of this year, Trump slammed Lord Sugar in an interview with Piers Morgan. He said: "He works for me. He is a small timer. I mean, he's doing a nice job but don't forget, he works for me – I make money from The Apprentice.
"When we first chose him for the show, he was so low on the economic scale, he didn't really fit the role. I think he's made more money by being on The Apprentice than he has in business. I just wish him luck," he added.
Lord Sugar didn't hesitate to respond to Trump's statement, calling it "nonsense". He said on Tuesday: "Well he's not as good as me – as far as The Apprentice is concerned.
"He's not in my class, quite frankly. I happened to see the [presidential] debate with him and Hillary Clinton last night. It was like a US version of Would I Lie To You?" he said, before adding: "All that was missing was Rob Brydon in the middle."
On Trump's potential role as the Leader of the Free World, Lord Sugar said: "It is quite a frightening thought that he may be the most powerful man in the world shortly."
Lord Sugar's co-star on The Apprentice, Brady, added: "For me personally, I think Hilary Clinton – another woman leader across the world – means that I think the world is a safer and better place."
Commenting on Trump's claim that he made Lord Sugar a star, the business mogul said: "Yeah, he also said he was going to build a wall [a reference to Trump's plans to build a wall along the US-Mexican border].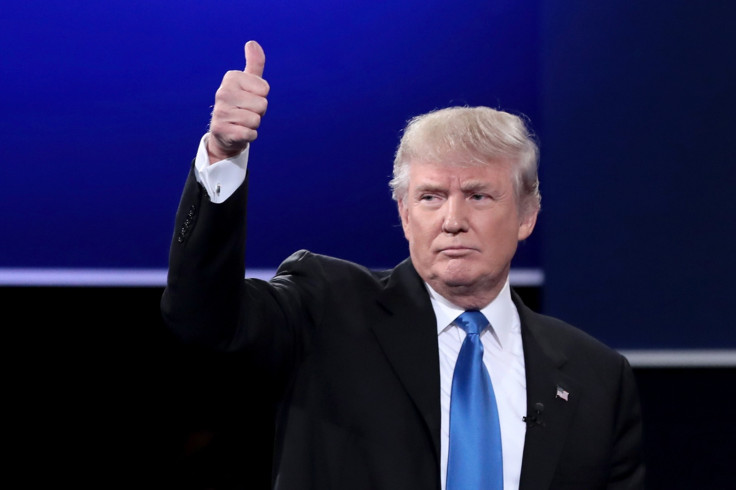 "I mentioned to some of my American friends why he hasn't also claimed he's going to stop all snowstorms in future in New York, so he doesn't warrant a response to that nonsense. It's complete and utter nonsense. He's got nothing to do with this programme other than he was once the host of the American show and left under a cloud of uncertainty with NBC."
Meet the 18 new contestants of The Apprentice series 12 here.
The Apprentice returns to BBC1 next Thursday at 9pm.