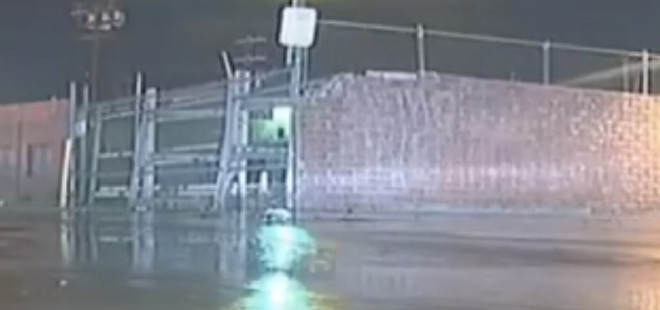 A massive spill of crude oil sparked by a broken high-pressure pipe has flooded parts of a Los Angeles district, in California.
Some 10,000 gallons (38,000 litres) of crude oil were sprayed into the industrial area of Atwater Village near the border of Glendale, the LA Fire Department (LAFD) said.
The early morning spill affected an area of about half a mile (0.8km) with oil reaching "knee high in some areas", LAFD said.
Four workers at a nearby industrial plant reported breathing problems. Two of them were taken to the hospital.
Several commercial businesses were affected by the spill and a strip club was evacuated.
Most of the oil has been vacuumed up, while an environmental cleaning company is at work to sop up the remaining liquid.
NBC Los Angeles reported oil was seen shooting 15 to 20 feet upward in the sky as the above-ground pipe broke near San Fernando Road.
The pipe line was remotely shut off after a few minutes but oil continued to pure out of it for almost an hour, LAFD said.
LAFD's early estimates that 1,000,000 gallons had spilled, were later revised to 50,000 gallons and finally to 10,000.