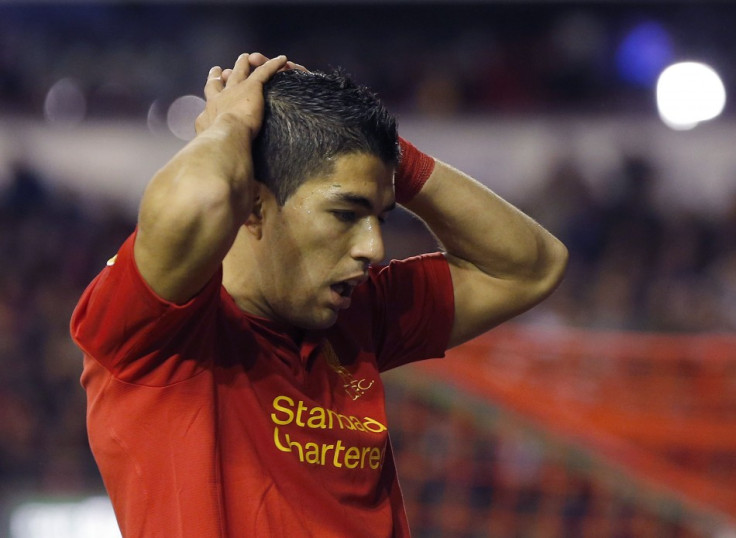 Liverpool striker Luis Suarez is filling the role Lionel Messi does for Barcelona, according to manager Brendan Rodgers.
The Uruguayan has scored nine goals this season for The Reds, the latest coming against Newcastle United in a 1-1 draw at Anfield.
Suarez has been forced to lead the line for Liverpool this season, amid injury to fellow striker Fabio Borini, and Rodgers' weak transfer policy, which saw the likes of Dirk Kuyt and Craig Bellamy not properly replaced.
And it's Suarez's ability to bring others into play which has seen his Northern Irish boss compare him to Barcelona's Messi, who fulfils a similar role for the Catalans.
"He plays the false nine role like Messi does for Barcelona where he moves freely and others have to get in behind him to penetrate," Rodgers said.
"Suarez's goal was brilliant. He is a world-class striker."
With few goals coming from the remainder of the team, Suarez has been forced to lead the Liverpool attack for most of the season, with only Steven Gerrard having scored more than once in the league in the current campaign.
The club are expected to delve into the transfer market in the January transfer window, while opting not to recall Andy Carroll, to assist Suarez in attack.
Meanwhile, Rodgers has lamented his side's inability to defeat 10-man Newcastle on Sunday.
The hosts dominated for long periods, but failed to add to their two home league wins in 2012, leaving the Liverpool boss frustrated.
"It was probably frustration from Fabricio Coloccini because Luis Suarez was unplayable. I thought he was outstanding," Rodgers said.
"We are disappointed we couldn't get the win because it was the very least we deserved," he added
"We had enough chances in the game to have won it but I have no complaints.
"Once we get a number of other players that can fit the profile and the model of our game, when we dominate games like that and finish the chances it will be great for us."