Liverpool Prepared to Sell Luis Suarez Next Summer
Mark Lawrenson says talks have begun regarding Luis Suarez's departure next summer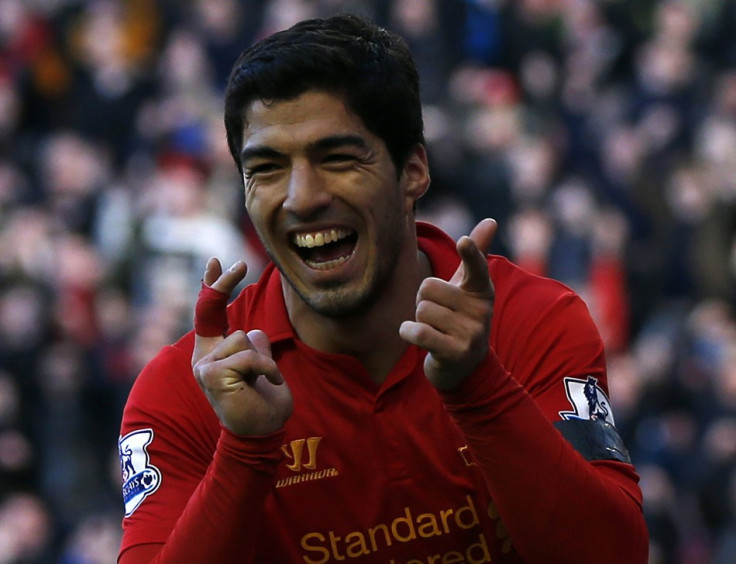 Former Liverpool defender Mark Lawrenson says discussions have already been held regarding Luis Suarez's departure from Anfield next summer.
The Reds rejected two offers from Arsenal during the summer transfer window as Suarez failed to manufacture a move away from Merseyside.
Suarez is expected to return from a 10-match ban for biting Chelsea defender Branislav Ivanovic for the League Cup tie against Manchester United but should Liverpool not qualify for the Champions League this season, Lawrenson expects the 26 year old to leave next summer.
"In all honesty, if Liverpool don't finish in the top four at the end of the season he will be gone," Lawrenson told BBC Sport. "They will not say so publicly but privately the conversation has taken place.
"I think Luis Suarez will start [against Manchester United] for two reasons: he needs the game time and also, without the injured Philippe Coutinho, there is a space automatically for him," he added.
Liverpool spent in excess of £55m on eight new players in the summer transfer window and have won three of their opening five Premier League fixtures.
Brendan Rodgers says qualifying for the Champions League is the club's number one priority this season and finishing in the top four is likely to avoid a similarly turbulent summer where Suarez's future is central.
Suarez accused Rodgers of making a u-turn this summer after promising he could leave should the club fail to qualify for the Champions League, a public declaration he was later forced to apologise for before returning to first team training.
That incident is the latest controversy of Suarez's two-and-a-half year career in English football which has included two separate substantial bans for racial abuse and biting as well as a succession of accusations of cheating following series of diving offences.
However, Liverpool have stuck by Suarez throughout his Anfield career and he is expected to return to the first team for the first time since April against United at Old Trafford.
And Rodgers has no reluctance in unleashing the forward on David Moyes' side, who are reeling following the weekend's 4-1 humiliation at the hands of Manchester City.
"I've got no hesitation about playing him," said the Liverpool manager.
"Since I've been manager, there has never been an issue like that with him. For me, the history of the clash doesn't enter my mind.
"He is a tough character and resilient. He is one of the strongest-willed players I've come across in my life.
"He is a fighter and his desire to succeed is out there for everybody to see. We're delighted to have him back.
"It is a good game for us as a team after the disappointment of the weekend and Luis will be part of that.
"But for him, it's a fixture that once it came out and he knew he was available for it, it will have stoked him up and got him even more ready.
"You could argue that it is a really good game for him to come back to."
© Copyright IBTimes 2023. All rights reserved.