Luis Suarez does not possess the finishing ability to provide success for Liverpool this season, according to club idol Gary McAllister.
The Uruguayan was guilty of a number of missed chances in The Reds' 3-0 defeat to West Bromwich Albion on the opening day of the Premier League season.
And McAllister believes the forward isn't equipped to spearhead Liverpool's goal threat this season on his own, after a series of misses which mirrored last term's wastefulness in front of goal.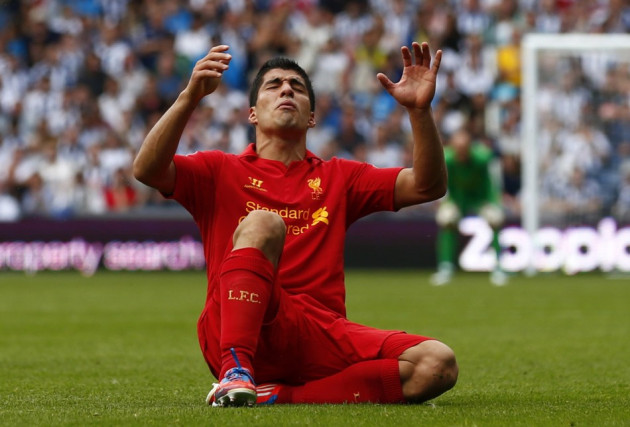 "Suarez is a fantastic player, but I don't know if he is a natural goalscorer, somebody like a Michael Owen," said the Scot.
"The players have got to put away the chances being created.
"That was the big thing last year - an inability to put away chances when they were dominating games.
"I can see him chipping in with a good amount of goals but is he somebody who is going to get 25 plus? I'm not so sure," he added.
"But that's me being hyper-critical as he brings so many other things to the game, like linking play and his technical abilities are fantastic.
"Liverpool certainly have to be more clinical with their finishing. Looking back to last season, I can just picture a lot of openings where players were snatching at the chances or trying too hard when they just needed to let it happen.
"I worked with Stewart Downing and he has never scored a league goal for Liverpool. He's got two great feet and very capable of getting himself into double figures as far as I'm concerned."
Brendan Rodgers has wasted no time in introducing his football philosophy at Anfield, but errors from the likes of Martin Skrtel and Daniel Agger in possession suggested the Northern Irishman's style will take time to become fully inherited.
However, Liverpool have little time to adapt to their new found style of play, with games against Manchester City, Arsenal and Manchester United on the horizon this weekend.
"It's a tough start but it will give them a good indication of where they will be," McAllister added.
"Those games tend to take care of themselves. Liverpool don't have a problem in those games because of the type of club it is - it raises itself for those games. There's no need to panic."