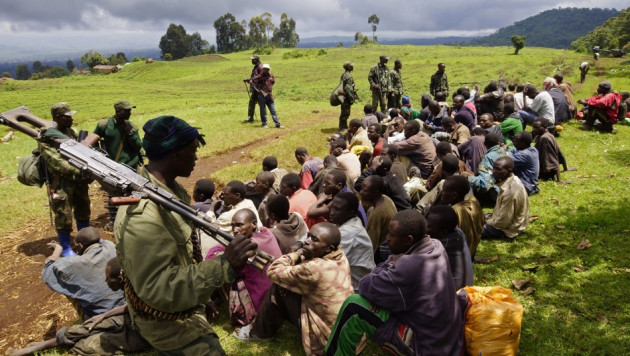 At least 1,700 M23 rebels, including a top commander, have surrendered to Ugandan authorities after the group announced it was ending its insurgency in the neighbouring DR Congo.
A Ugandan military official said that M23's general Sultani Makenga and hundreds of his fighters surrendered their weapons to Ugandan forces and were being held in Mgahinga near the Congolese border.
Uganda has been brokering a peace deal between the rebels and the DR Congo government since December 2012.
The move came after the last outposts held by M23 rebels in Congolese territory were seized at the end of a DR Congo government counter-offensive.
After his soldiers were routed in Chanzu and Runyonyi, M23 leader Bertrand Bisimwa, said the group was to lay down arms and engage in talks to resolve its grievances through dialogue only.
The M23 began their offensive in April 2012 after a group of Congolese army mutineers claimed that a peace deal with the government had not been honoured.
Its members are mainly former soldiers of the National Congress for the Defence of the People.
The majority of them are Tutsi survivors of the Hutu genocide in Rwanda in 1994 and they have allegedly received military and financial support from capital city Kigali.
The Rwandan government denied the allegations despite evidence laid out in a report by the United Nations.
In 2012,the M23 rapidly advanced into DR Congo and briefly occupied the city of Goma before withdrawing to territories near the Rwandan border.
The M23 rule was marked by murders, rapes and forced recruitment of children, human rights groups said.