Theresa May is one of those who will be keeping a keen eye Emmanuel Macron over the next few weeks, knowing the former economy minister turned French presidential favourite could have a significant influence on the future of the UK.
Macron, who quit his role in the financial industry to set up the independent En Marche movement, is set to go head-to-head with Front National leader Marine Le Pen for the French presidency after the pair made it through to the next round. They took 23.7% and 21.7% of the first round votes respectively.
The polls – which many may choose to take with a pinch of salt – show that the 39-year-old, who was the most pro-European out of all the main candidates, is currently way out ahead of Le Pen at 68% to 32%. This could be bad news for the UK as it undergoes two-year negotiations to leave the EU.
Even before he was a frontrunner for the French presidency, Macron was an outspoken critic of Brexit. In the days before the EU Referendum vote last June, he urged the people of the UK to vote Remain in order to prevent the "Guernseyfication" of the UK, with Brexit turning it into a "little country on the world scale".
Speaking to Le Monde in June 2016, he added: "It [the UK] would isolate itself and become a trading post and arbitration place at Europe's border.
"If the UK wants a commercial access treaty to the European market, the British must contribute to the European budget like the Norwegians and the Swiss do. If London doesn't want that, then it must be a total exit.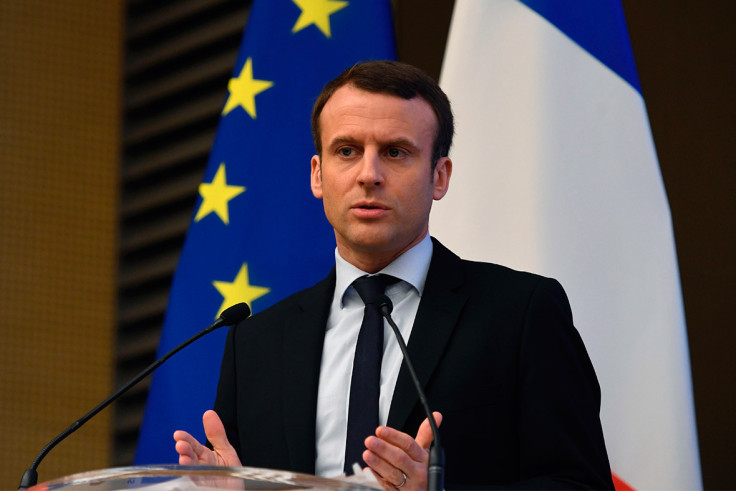 Macron did not scale down his views on Brexit during his campaign. In his election manifesto, he described Brexit as a "crime". Following talks with Theresa May during a visit to the UK in February, Macron warned he plans to coax the best "banks, talents, researchers, academics" to France post-Brexit.
He added: "I think that France and the European Union are a very attractive space now so in my programme I will do everything I can to make it attractive and successful."
Macron has frequently spoken about his desire for a "strict approach" to Brexit, including ensuring Britain can have no access to the single market. Speaking to Bloomberg, he added: "I don't want a tailormade approach where the British have the best of two worlds. That will be too big an incentive for others to leave and kill the European idea, which is based on shared responsibilities."
His far-right rival Le Pen is one of those who is pushing to "kill the European idea" and will be urging for Brexit to be a huge success for in order for her to push through what will no doubt be referred to as a ''Frexit''.
With France being such a key influence in the EU, Macron's desire to almost punish Britain for leaving the bloc may be seen as favourable for many who do not wish for France to follow suit and have its own referendum to leave.
Matthew Elliott, a key Leave campaigner and senior fellow at the Legatum Institute, said a Macron presidency would make Brexit negotiations "less complex" whereas a Le Penn victory would result in a "bigger crisis for the EU" than Britain leaving.
He added in the result of a Le Pen presidency, the EU may be tempted to provide no deals at all with Britain as the EU would want to "prevent a situation in which Brexit looked like a good model for Frexit."
Macron's win in the first round of voting has also been well received by those who may have a key say in the future of the UK.
Steffan Siebert, spokesperson for German Chancellor Angela Merkel – arguably the most influential person within EU – said it was "good that Emmanuel Macron has been successful with his positions for a strong EU and a social market economy. Good luck for the coming two weeks."
Macron and Le Pen will face each other in the second round of voting on 7 May.