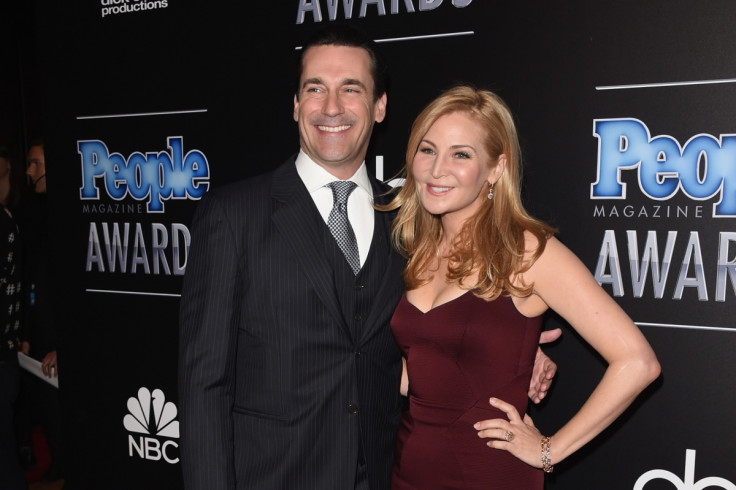 Mad Men actor Jon Hamm and long-time partner Jennifer Westfeldt have officially announced their separation after 18 years together. In a joint statement to People magazine, the pair stated: "With great sadness, we have decided to separate, after 18 years of love and shared history. We will continue to be supportive of each other in every way possible moving forward."
Their rumoured split had been making the rounds for some time after not appearing together in public for several months. The couple were reportedly spotted on 22 July at the New York premiere of Wet Hot American Summer: First Day Of Camp, which Hamm had starred in alongside the original cast, Bradley Cooper, Amy Poehler, Elizabeth Banks, Ken Marino, Janeane Garofalo and Paul Rudd. Prior to the outing and despite all of the speculation suggesting otherwise, Hamm and Westfeldt released a statement in April denying reports they had broken up.
The pair began dating in 1997 and have starred in movies; Kissing Jessica Stein, Ira & Abby and Friends With Kids together over their almost twenty year relationship. Westfeldt penned each one of the film's scripts, also directing one whilst Hamm acted as producer on their latest flick Friends With Kids. The comedy-drama featured many of the couple's mutual friends in the industry including Adam Scott, Maya Rudolph and Kristen Wiig.
As well as enjoying many career highlights together, they have also had their fair share of lows when it comes to their personal lives. Earlier this year, Hamm completed a stint in rehab to help him overcome an addiction to alcohol. A feat that he said he accomplished thanks to Westfeldt's constant support.
"Our lives are entwined," the actor told the same publication back in 2014. "It's a long time [together]. I'm definitely the guy that repeats his stories! Mostly it's just paying attention and keeping engaged and not succumbing to inertia or going through the motions."