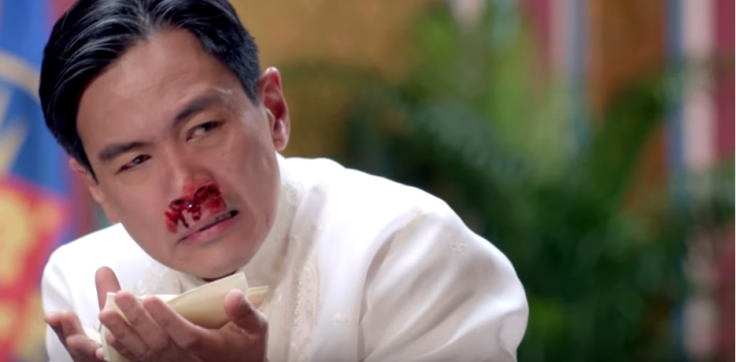 The CBS political drama Madam Secretary has managed to anger the Philippines government over its depiction of their president. In the trailer for the 12 March episode, "Break in Diplomacy," the female lead character, the US state secretary Dr Elizabeth McCord, played by Tea Leoni is seen punching a visiting head of state after he tries to make a sexual advance towards her.
"Elizabeth is shocked when the Philippines' unconventional new president, Datu Andrada (Joel de la Fuente), makes a pass at her during their meeting to discuss his refusal to participate in an Asia-Pacific territory treaty," the episode's synopsis reads.
"I clobbered a world leader instead of saving a major regional agreement," Elizabeth mentions in one scene.
While only a TV show, the Philippine government is upset with the portrayal of the fictional leader as a lecherous man and presidential spokesman Ernesto Abella responded to the trailer release saying that the show's creators were "confusing their images".
"I think they are projecting something that they really would like to say about their own situation. Really I think they should use a fictional US president," he said during a press conference in Manila.
The Philippines Embassy in Washington also released a statement directed at CBS to "strongly protest the highly negative depiction of a character purported to be the Philippine president".
"While Madam Secretary is a work of fiction, it tracks and mirrors current events. It is, therefore, inevitable that its depiction of world leaders will have an impact on how its audience views the real personages and the countries they represent," the statement read. "This highly negative portrayal of our Head of State not only casts doubt on the respectability of the Office of the Philippine President but also denigrates that way our nation navigates foreign affairs. It also tarnishes the Philippines' longstanding advocacy for women's rights and gender equality."
The embassy has called on the network to take the necessary corrective actions to rectify the situation.
Watch the trailer for the Break in Diplomacy episode below: