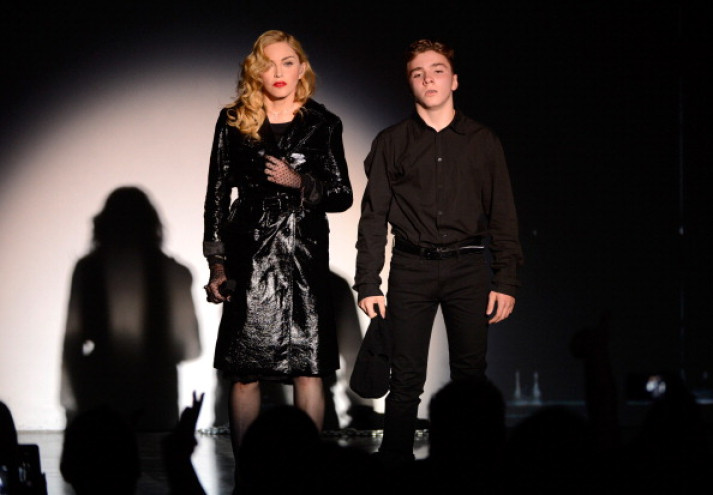 Madonna broke down when she dedicated a song to her son Rocco Ritchie while performing at her Revel Heart tour in Auckland. The singer is currently in the middle of a custody battle with her ex-husband filmmaker Guy Ritchie, 47, over their son.
Dedicating one of her songs, La Vie en Rose, to her son at the Vector Arena on Friday night (4 March) the 57-year-old singer told the audience: "That is my son, who I mentioned earlier. He is actually 15 and it's true, there is no love stronger than a mother for her son."
"And, if I talk about him too much, I might cry. But I would like to dedicate this song to him," she said. "It's a love song for a man, but I know he'll be one, one day. I hope he hears this somewhere and knows how much I miss him."
In December 2015, Rocco defied a court order to return to his mother in New York. Rocco is now staying with Ritchie even though Madonna had won custody of her son after the couple divorced in 2008 after eight years of marriage.
On 3 March, US State Supreme Court Justice Deborah Kaplan told Madonna and Ritchie to resolve the dispute amicably. Kaplan added that the case should never have reached a courtroom in the first place.
"No one is disrupting his household other than the inability of the parents to reach a resolution," judge Kaplan said. "If they cannot resolve this matter then eventually the court will."
"Frankly, both parties here have chosen to live their lives in a very public way, and may welcome the exposure, but the child has not," she said. "I urge them to consider what is the best interests of their son - which may be to remove him from the spotlight."
Madonna had requested a preliminary hearing at the High Court in London, where she told the court that the legal proceedings in the UK be closed so the case can be settled in a New York court.
Judge Justice MacDonald said: "It would be my fervent hope that discussions between the parties can reach an amicable resolution. An amicable negotiated resolution is definitely the way forward and in Rocco's best interests," he said.
"Unfortunate Rocco will have to experience additional emotional upset," he added. The hearing in the UK has been adjourned till next week, while the hearing in the US will take place on 1 June.