Mafia's Rosetta Stone: Italian police crack 'Ndrangheta encrypted secrets of San Luca code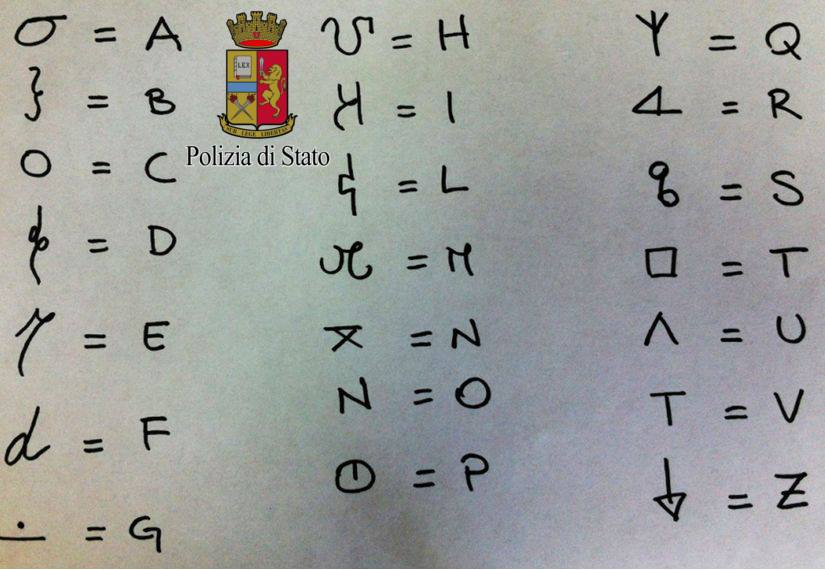 Police found a key to the secrets of Italy's most feared mafia group, as detectives were able to crack the clan's encrypted messaging system thanks to a notebook seized during a search.
The existence of the exceptional document, described by Italian media as a sort of mafia Rosetta Stone, was revealed by police after they carried out a massive operation targeting affiliates of the 'Ndrangheta crime syndicate, Europe's biggest drug cartel, in Rome.
About 450 officers were involved in a series of raids in the capital that resulted in the arrests of some 30 suspected mobsters, earlier this week.
Weapons and more than 600kg (1,320 pounds) of cocaine and hashish were also seized in the operation that authorities said underscored how 'Ndrangheta has expanded its reach well out of its heartland southern region of Calabria.
With the suspects in custody, police revealed that arguably the most important piece of evidence gathered during the lengthy investigation was a red notebook they found last year, while searching the house of a suspect, Gianni Cretarola.
The short document was written in a code that Cretarola, despite having turned informer after he was arrested, refused to decipher, La Repubblica newspaper reported.
It was passed on to two brainteaser-enthusiast officers who eventually managed to crack it.
The notebook was revealed to be the so-called San Luca code, a booklet - the existence of which was not previously confirmed - detailing the clan's hierarchical structure and masonic-esque initiation rites.
It contained the names of 'Ndrangheta ranks - from "picciotto" to "headmaster" and "evangelist" to "godfather" - as well as the formula used during the "baptism" of new members.
This read like an esoteric prayer featuring, among other things, a boat trip, chained lions, Gabriel Archangel, knives and repeated references to the number three.
Cracking the code also allowed police to decipher more pragmatic messages listing names of drug dealers and details of illicit businesses.
The discovery could represent a breakthrough in police's understanding of 'Ndrangheta, which is considered Italy's most secretive mob, as due to strict blood ties its members rarely turn supergrasses (informers).
It came two months after another mafia initiation ceremony was as captured on camera for the first time by Milan police.
© Copyright IBTimes 2023. All rights reserved.