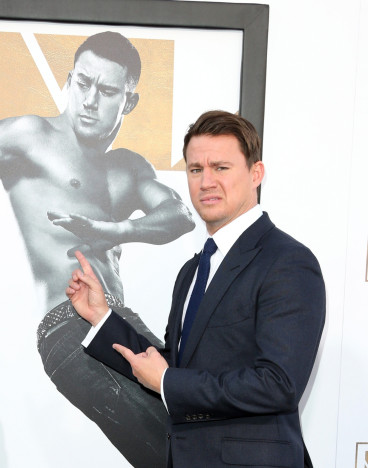 Channing Tatum first became a household name after his body-popping role in 2006 dance movie Step Up, and now he's demonstrated that he's not lost his signature moves.
Showing that he's not afraid to play up his sex symbol status and doesn't take himself too seriously, the 35-year-old was filmed acting out seven classic dance moves in a light-hearted behind-the-scenes video from his latest feature for Vanity Fair.
The actor can be seen perfecting the classic seven dance moves: Pony, Robot, Funky Chicken, Hula, Twist and The Running Man. Unsurprisingly, he does them all rather well.
Within the magazine feature, Vanity Fair wonders whether Tatum would ever take to live performance again professionally, going back to his career roots of dancing and stripping.
"Well, we're going to start a [Magic Mike] show in Vegas, and I'll never say never," the Foxcatcher star said. "I wouldn't mind going out there and doing it one more time. Or maybe twice. But, you know, every time I've put on a thong and am getting ready to walk on-stage again, I'm like: 'Why do I want to do this?' It's very uncomfortable to be in a thong in front of a thousand people."
Considering he's currently promoting his latest movie, Magic Mike XXL, which sees him reprising his character from the original movie as former exotic dancer Mike Lane, three years on from closing the door on his stripping career, it's understandable how the subject of being a sex symbol came up in the interview.
Tatum describes current Hollywood attractiveness as a completely different ball-game to the way that older actors were regarded a decade or more ago.
"The Brad Pitts, the Leos, the Downeys: Why aren't there new versions of those guys?" he asks, comparing the nature of attractiveness then and now.
Whilst getting his kit off seems to be second-nature to the actor these days, something he isn't so comfortable with is every fan knowing every little detail about his personal life because of social media and the internet. It's something he believes plays a part in why we haven't got any new Brad Pitts or Leonardo DiCaprios in the movie industry these days.
"I think people just know too much about actors, about everything. Behind the scenes. It's almost like the world is so with you all the time, people on the phones and blah blah blah, that to go into a movie theatre for three hours and lose that time is harder and harder. People watch TV at home and they're still on their phone, wired.
"They're even wired to the actors. Twitter, Facebook, Instagram. You feel connected. So that [actor] doesn't feel as mythic anymore. '