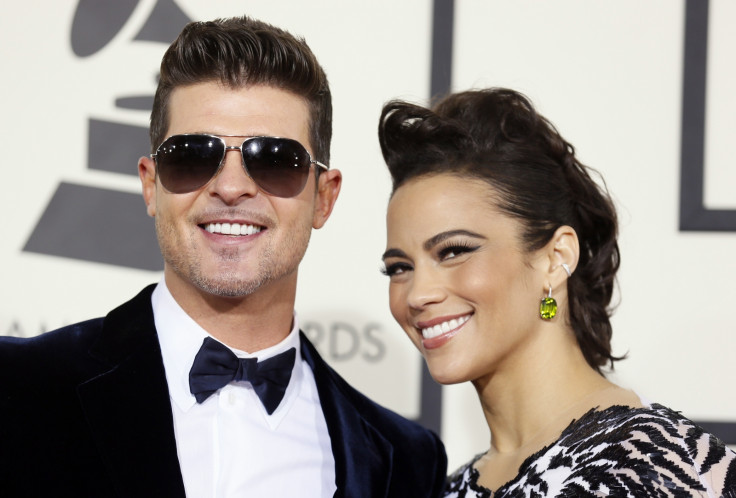 It was one of the biggest musical flops of 2014 so it is no surprise that singer Robin Thicke admits his most recent album Paula was a complete "embarrassment".
The Blurred Lines hitmaker embarked on a very public mission to win back his estranged wife Paula Patton following their split in February 2014, which included recording an entire album pleading for her forgiveness.
Thicke, 38, reveals the peak of his embarrassment came after he performed at the BET Awards in June 2014.
The singer told The New York Daily News: "My supersaturation came right after I performed on the BET Awards. I dedicated the performance [of the song Forever Love] to my ex.
"And I came home, and my best friend of 20 years, Craig Crawford, said: 'I saw your BET performance.' And I said: 'Oh yeah! What did you think?' You know — excited. And he goes: 'I gotta be honest with you, buddy. You're kind of playing yourself. You look like a sucker.'"
The Lost Without You singer admits that he was oblivious as to how his reconciliation attempts came across to the public as he believed his gestures were "romantic".
Listen to Robin Thicke's Paula album:
He explains: "And it hit me that I'd lost my perspective. What I thought was romantic was just embarrassing. And he said: 'You should just go away for a while.'
"So I shut everything down. I took some time off to be with my son, and to be with my family and close friends. And the more time I took off, the more everything became clear."
Adding to Thicke's humiliation was the fact that Paula sold a measly 530 copies in its first week of release in the UK, peaking at number 200; while it shifted just 54 copies in Australia.
Addressing the album's poor reception, the father-of-one told the publication: "Look, my songwriting has always been autobiographical, and always will be.
"The Paula album was no different. I was struggling through my toughest time, and I decided to share it. And I remember my team and my record company didn't want me to put it out, but they stuck by me.
He continued: "In hindsight, the only thing I would have done differently was, I wouldn't have promoted it or sold it. I would have given it away. That would have kept the purity of the message intact."